The content is accurate at the time of publication and is subject to change.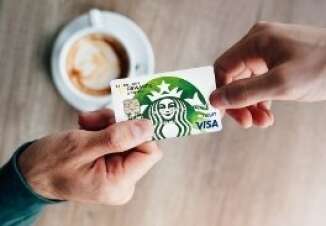 A while back Starbucks rolled out their new Starbucks Rewards Visa card from Chase letting people earn stars when buying everything from groceries to a night out at the movies. And now they have launched a new product with Chase, the Starbucks Rewards Visa Prepaid card. It lets people earn stars at Starbucks as well as everywhere else Visa is accepted.
With this card, people earn 125 Bonus Stars the first time they register their card or load their card with $10 or more. The 125 Bonus Stars can buy them a beverage or something off the food menu at Starbucks. From that point on they earn one star for every $10 they spend with their Starbucks Rewards Visa Prepaid card.
The new prepaid card is reloadable and free to reload. There is also no yearly or monthly fee to get the card. "We want to offer Starbucks customers a flexible card that delivers more Star-earning potential in the fastest way possible," said Jennifer Roberts, head of Digital Products for Chase.
"The new Starbucks Rewards Visa Prepaid card is perfect for Starbucks fans who want a simple way to pay and get rewarded for everyday purchases," she added.
Getting those rewards
When people get the Starbucks Rewards Visa Prepaid card, they will be awarded Gold Status right away, since the card is fully integrated into the Starbucks Rewards loyalty program.
At that point, they will be able to earn stars whenever they use their card. They will also get additional perks and extras, including being eligible for Birthday Rewards, free beverages, and food items. The card also includes Chase Zero Liability Protection and is FDIC Insured.
"As we continue to expand and strengthen our digital relationships with customers, we want to make sure we're providing choices that are both rewarding and meet their preferences in how they engage with us," said Matt Ryan, chief marketing officer for Starbucks.
"This reloadable Visa Prepaid card is a unique and modern option that gives customers one more way to earn more Stars and Rewards through everyday spend, in a way they haven't been able to before," he added.
Getting more with the Starbucks credit card
People who want to go one step further can apply for the Starbucks Rewards Visa card that offers 2,500 bonus points with a $500 spend during the first 90 days of having the card. This is equal to 20 beverages or items off the food menu.
They also earn four Stars for every dollar spent outside of Starbucks and three Stars for purchases made at any Starbucks store.