The content is accurate at the time of publication and is subject to change.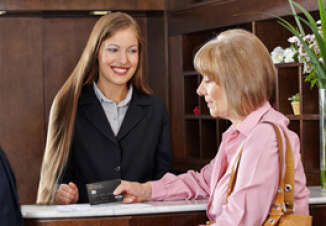 A new travel rewards credit card is offering double points at any hotel, and up to five points per dollar spent at select properties.
The Stash Hotel Rewards Visa Signature Card also offers two points per dollar spent on gas and dining and one point per dollar on all other purchases. Points don't expire, and there are no blackout dates on reward night redemption. Cardholders also earn 10% of their points back after they redeem them.
Most hotel rewards credit cards offer reward points only at certain chains, such as Marriott or Hilton. Stash Rewards gives two points per dollar spent at any hotel chain, and extra points for stays at hotels in the Stash network. These include a variety of independent properties, encompassing historic inns, boutique hotels, family resorts, downtown hotels geared to business travelers, and luxury spas.
There are over 165 Stash-network properties across the United States, the Caribbean, and Central America. To earn points, Stash Rewards members must book their stay directly with the hotel. Reservations made through online sites like Expedia or other third parties will not be eligible to earn reward points.
Stash points are only good at Stash hotels
While cardholders can earn reward points at any hotel, they can only use those points at Stash properties. Travelers who are loyal to one hotel brand, such as Hyatt, Marriott, or Hilton, are better off carrying one of those co-branded credit cards. However, for travelers who prioritize flexibility and like staying at independent hotels, the Stash Rewards card is a good way to maximize rewards.
When staying at a Stash Rewards partner hotel, cardholders get three points per dollar spent. That's on top of the five points per dollar that Stash Rewards members earn without the credit card, for a total of eight points per dollar spent at Stash properties.
There's currently a sign-on bonus offer of 10,000 points when cardholders spend $1,500 in the first three months they have the card. Redemption rates vary, and may change according to the season.
Card benefits
The Stash Rewards Visa Signature Card is issued by Synchrony Bank and offers traveler-friendly features like no foreign transaction fees and an EMV chip-enabled card. There is an $85 annual fee, which is waived the first year. The APR for purchases is 15.99%.
Standard Visa Signature perks include extended warranty, travel and emergency assistance, certain rental car insurance coverage, lost luggage reimbursement, and concierge service.