The content is accurate at the time of publication and is subject to change.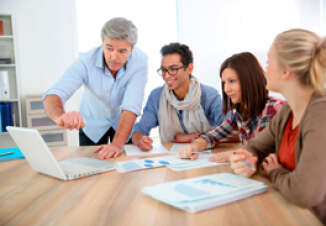 Students have given themselves a thumbs down when it comes to managing their money and personal finance skills in a new study, but there is an upside - parents can be big influencers in this area, and give their kids a leg up.
In the 2015 U.S. Bank Students and Personal Finance Study, 1,640 college students weighed in on how they felt about their personal finance skills, with 65% of them giving themselves a C, and in some cases far less. With 55% indicating that their parents are their personal finance role models, while also being their "go- to" list when they are looking for money related advice.
"Personal financial knowledge and confidence is critical to the health of our national economy," said Robyn Gilson, vice president of strategy and insights at U.S. Bank. "It has never been more important for parents to engage in an ongoing dialogue with their children about personal money management and ways to maintain good financial habits. Students need to feel informed, prepared and confident in the decisions they are making today, which can impact them for years to come."
Problem areas
Credit, budgeting, and putting away money for the future were all cited as being problem areas for students in the 12-question true/false quiz.
Making a budget is an important part of managing money, but 54% of students said they didn't know how to make one or keep it up. When it came tor everyday expenses, 21% of students indicated that they are having a hard time keeping up and just 5% said that they have some cash stashed away for emergencies.
Knowing the ins and out of credit was also an issue with students. Just 39% are aware of the fact that paying off a delinquent credit card or loan does not expunge it from their credit report. And when it comes to building up their credit, 60% think that if they pay by check or debit card it will do the trick.
When asked about the responsibilities of a co-signer, 47% believe that their co-signer has to pay off their loan if they can't get a job.
Saving for the future didn't fare well either, with 60% saying that they didn't know anything about retirement savings or investments, and 63% believing that 401k investments are secured and never lose their value.
Financial education on U.S Bank
U.S Bank has launched a Student Union website designed to provide students with tools and resources they can use to educate themselves about personal finance. The site also acts as a forum where parents and their children can talk about money and finance, including topics like credit scores, and how to manage credit.
The site is also offer students free access to CreditView from TransUnion, so they can get their credit scores. But the system also includes a simulator that lets them see how various changes in life can affect their credit score, including everything from getting a car loan to paying off a credit card.
The U.S. Bank Students and Personal Finance Study was conducted in April 2015. The sample group included full time college students from 18 to 30 years of age.