The content is accurate at the time of publication and is subject to change.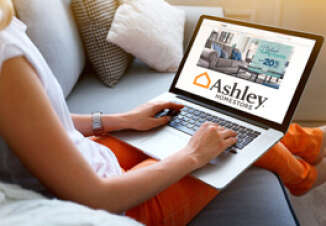 Having partnered up in 2011 to begin offering Ashley HomeStores customers ways to finance their home furniture purchases, Synchrony Financial has signed on to continued issuing The Ashley Advantage Credit Card. With the inking of this multi-year deal the they will continue to provide cardholders with special financing options and exclusive offers whether shopping in real time at any of their 480 stores located across the U.S or shopping online at the company's website.
When shopping for furniture, financing can seal the deal and this extension of their relationship is seen as a way to give cardholders what they are looking for in this area. "Financing drives a large percentage of our furniture and bedding purchases, and the Ashley Advantage Credit Card has been an important program to increase foot traffic and meet the needs of our customers," said Ben Thorud, senior vice president, Ashley HomeStores, Ltd. "Synchrony Financial understands our business and provides tools and resources beyond credit to help enhance our sales processes and build customer loyalty. We look forward to continuing our partnership."
The card
The Ashley Advantage Credit Card offers special financing in which people do not have to pay interest if they pay the full balance off within six, 12 or 24 months.
They can use this special financing option whether shopping in the store or online, and take advantage of no money down options as well. Cardholders also get access to special coupons and exclusive offers. These accounts come with an APR of 29.99%.
More information on this card can be found on the website.
Financing is king
When it comes to making big-ticket purchases, whether that means buying a bedroom set or a new living room financing, financing can be crucial to the purchasing equation according to Synchrony Financial's 2015 Major Purchase Consumer Study. In this study consumers said that if financing was not available they would have taken a pass on a purchase or went to another retailer who was making a lucrative offer.
They found that 88% of Synchrony cardholders looking to buy home furnishings believed that special financing make making these purchases much easier. On the other hand, 74% were more proactive, saying that they always look for retailers making these kinds of offers, especially when the item being purchased was priced at $500 or more.