The content is accurate at the time of publication and is subject to change.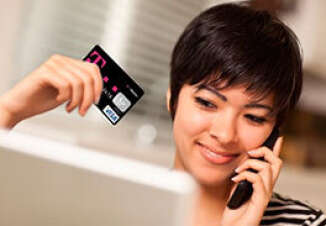 T-Mobile customers can get an extra $20 tacked onto their tax refund when they have Uncle Sam send their money to a registered T-Mobile Visa Prepaid card.
The promotion, which runs through April 30, also helps people get their refunds faster. Having a tax refund directly deposited to a prepaid card or bank account means you can get the money faster than requesting a paper check.
T-Mobile's Mobile Money service is a prepaid Visa card that functions as an alternative to a traditional checking account. It debuted in January 2014 toserveunderbanked consumers (T-Mobile estimates there are 68 million in the U.S.) and people who want to avoid account fees from their bank. Mobile Money lets people deposit money, get cash from an ATM, transfer funds from another account, pay bills, and send money to other people.
No minimum balance, no monthly maintenance fee for T-Mobile customers
There is no minimum balance required to maintaina T-Mobile Mobile Money account. The T-Mobile Visa Prepaid card has a $5 monthly fee if you are not a T-Mobile customer, or if you don't provide your T-Mobile number at signup. However, if you load at least $500 onto your card or get a minimum of $500 in direct deposits to your card each month, the fee will be waived.
Direct deposits of paychecks go through faster when they are deposited to a T-Mobile card, as compared with other methods of getting paid. Government benefits can be directly deposited to the card, as well as payroll checks and tax refunds.
A smartphone app lets Mobile Money customers check their balance, transfer funds, pay bills, find the nearest in-network ATM, and deposit money via mobile check deposit.
Fewer Fees for T-Mobile customers
To save the most on fees, folks should be T-Mobile customers and provide their cell phone number when they sign up for the prepaid account. The card itself costs $4 if you aren't a T-Mobile customer; if you are, it's free.
Reloading the Visa prepaid card at a T-Mobile store is free for T-Mobile customers. Non T-Mobile customers can expect to pay $3.00 - $3.95 to reload the card at a retail location. Out-of-network cash withdrawals cost $2, whether or not you're a T-Mobile customer. In-network ATM withdrawals are free for all Mobile Money customers, as are direct deposits and purchases made with the card.
The $20 tax refund bonus is applicable to all T-Mobile prepaid cardholders, whether or not they are T-Mobile phone customers.