The content is accurate at the time of publication and is subject to change.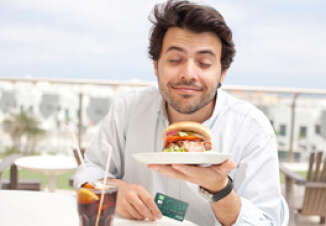 TD bank has launched the TD Cash Visa Signature Credit Card, offering 2% cash back when you eat out whether that's at Nobu, Starbucks, or MacDonald's, along with 1% cash back on all other purchases.There is no limit on how much cash back people can earn with this card, and rewards never expire. For a limited time they are also offering cardholder $200 in cash back when they spend $1,500 over the first three months of having the card.
The TD Cash Visa Signature Credit Card is a joint effort between TD Bank and U.S. Bankcard and Merchant Services, and is seen as a way to give people banking with TD and others more options.
"Today's credit card consumers are savvy and demanding," said Julie Pukas, head of U.S. Bankcard and Merchant Services. "They want simplicity and generous rewards without restrictions in their credit card reward program. Our TD Cash credit card offers both, making it a better option for their everyday use. Whether they're purchasing coffee at a local café, sub at the local deli, or dinner at a five-star restaurant, we're truly giving consumers the freedom to maximize cash rewards on all dining purchases and more."
Extras on TD
Foreign transaction fees can really add up when you're traveling, so the good news with this card is that there are no foreign transaction fees no matter where you travel, whether that is up north to Canada or across the pond to London.
Cards are outfitted with a microchip built into its design to provide people with a higher level of security. Cardholders who have a credit limit of at least $5,000 get access to Visa Signature benefits, which include free 24/7 concierge service, special perks when shopping, and entry to exclusive events
Free credit score and more
People can also get a free credit rating as well as access to credit education tools, which can be found in the TD Bank Online Banking interface.
Cardholders who also sign up for an online banking account can check out the credit education tools the bank has created for their customers. In TD CreditView, the online dashboard people can access current information on their credit history, and review their VantageScore, a personal credit-rating score, for free. They can also check out a wide range of tools and articles on getting and staying financially healthy.