The content is accurate at the time of publication and is subject to change.
This content is not provided by Citi. Any opinions, analyses, reviews or recommendations expressed here are those of the author's alone, and have not been reviewed, approved or otherwise endorsed by the Citi.
The Costco Anywhere Visa® Business Card by Citi has expired.
The information for the Costco Anywhere Visa® Card by Citi offer may be out-of-date. The current card details are the following:
Discover one of Citi's best cash back rewards cards designed exclusively for Costco members
4% cash back on eligible gas and EV charging purchases for the first $7,000 per year and then 1% thereafter
3% cash back on restaurants and eligible travel purchases
2% cash back on all other purchases from Costco and Costco.com
1% cash back on all other purchases
Costco Cash Rewards can be redeemed for merchandise or cash back at any U.S. Costco warehouse, including Puerto Ricoµ $comm_177= "yes"; ?>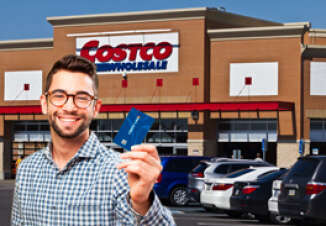 If you're a Costco shopper you might want to check out the two new additions to the Costco credit card portfolio - the Costco Anywhere Visa® Card by Citi and Costco Anywhere Visa® Business Card by Citi (offer has expired). The wholesale retailer teamed up with Citi, a Credit-Land.com advertising partner, to release the new cards offering up to 4% cash back.
Whether people get the consumer or business card the cashback rewards are the same with people getting 4% cash back rewards when gassing up (up to $7,000 and 1% from that point on), 3% back on restaurants and travel purchases no matter where they go and when eating out, 2% back when shopping at Costco and 1% on all other purchases.
There is no fee* for this credit card.
For Costco these cash back rewards are all about rewarding loyal customers, with enhanced cash back, along with security boosting chip technology and global acceptance."We have a strong relationship with our members and it's important that we're rewarding their loyalty to us," said Craig Jelinek, CEO and President, Costco. "Our new co-brand credit card agreement with Citi on the Visa network enables us to offer significant value and benefits for our members across 494 locations in the U.S. and Puerto Rico."
Visa Benefits
People can also use the new cards as Costco ID cards so they can shop in Costco, but they also give them access to additional benefits including:
Roadside Assistance
Travel Assistance
Concierge Service
Transition from Amex to Citi Visa
And along with the roll out of these new cards Costco will only be accepting Visa branded cards in their stores and gas stations. In 2015 Costco ended their relationship with American Express, and decided to team up with Citi and Visa.
People who already have credit cards with Costco should have received their new credit cards already. If they have not cashed out their rewards, they will be transferred to the new card so they do not lose any rewards with this transition from Amex to Visa.
Individuals who would like to apply for the card can do so on Costco stores or via the website.