The content is accurate at the time of publication and is subject to change.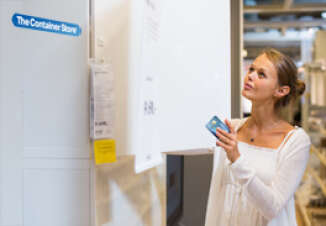 If you spend a fair amount of time in The Container Store you might be happy to know that they will be launching a private label credit card with Synchrony Financial. The credit card will give consumers access to a wide array of financing options to help make big ticket purchases more affordable, when buying everything from their luxury TCS Closet collection to the elfa closet systems.
What kind of options will they be offering cardholders? With the card launch they will also rollout two options for large ticket items. Cardholders can opt to forgo paying interest on purchases of $500 and up when they pay the total amount due within 1 year (12 months). The minimum amount must be paid each month to keep this option current.
For larger ticket items costing from $3,000 and up they also opt to forgo paying interest for two years (24 months). For this option they will have to make two dozen equal monthly payments once their credit is approved.
The new card and these new options are viewed as being a way for the Container Store to give their cardholders more choices when getting their homes and offices in shape.
"We are excited to offer our customers the convenience and flexibility of our new The Container Store Credit Card," said Melissa Reiff, CEO, The Container Store. "Financing options are yet another way we can provide a comprehensive shopping experience for our busy, time-starved customers. Whether it's that luxurious master closet they've been dreaming about, or that garage project they've been delaying, our customers will now have more opportunities for us to help them fulfill their storage and organization needs. Additionally, we believe the program will further deepen our engagement with our customers."
Financing is a must
In Synchrony Financial's Fourth Annual Major Purchase Consumer Study they found that people spend an average of 68 days checking out their major purchases both online and in person before deciding on whether or not they are buying it and where to buy it.
Three-quarters say that they look for special financing offers, and while they may look online too, heading out to the store is an important part of doing their research.