The content is accurate at the time of publication and is subject to change.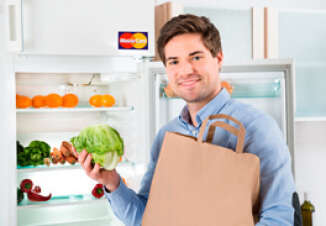 Have you ever wished that your refrigerator could do your grocery shopping for you? If so MasterCard might have been listening. Earlier this month they unveiled their newest app at the Consumer Electronics Show simply called Groceries by MasterCard. It is the first shopping app designed especially for a refrigerator.
Groceries by MasterCard does what you may well expect, helps you make your shopping list, order your groceries from FreshDirect and ShopeRite, and pays for them, not from your smartphone or computer, but directly from your refrigerator using a credit or debit card.
Right now the app comes pre-loaded into Samsung's new Family Hub refrigerator. "In a world where every device – from the phone to the refrigerator – is connected to the Internet, the ways in which consumers interact and transact with their favorite brands are changing," said Betty DeVita, Chief Commercial Officer, MasterCard Labs. "We're developing compelling, safe and seamless commerce experiences for consumers across channels and devices as we continue to eliminate the boundaries between how we shop and how we pay."
Ordering your groceries with MasterCard
When the app launches people will be able to shop for their groceries and place them into their virtual shopping cart. Over time the shopping cart will get to know the family and their habits, so it can begin making personalized suggestions when it comes to products and items.
MasterCard has also created a mobile app allowing multiple family members to add items from another device, and they can also use the mobile app to scan barcodes, and add them quickly into the cart.
When they are ready to place an order a four-digit code is used to confirm that they are authorized to place the order. Then much like they would with a smart phone or tablet they pay using a U.S.-issued credit or debit card. The orders go directly to the retailer, and are delivered by them as well.
More retailers, more extras
Fresh Direct and ShopeRite are the initial retailer partners for Groceries by MasterCard, but as they continue to roll out the app during the year more grocers will be coming on-board due to MasterCard's partnership with MyWebGrocer. This company offers digital services to over 130 grocers and 500 brands worldwide.
As the roll out continues they will also be adding in some additional features, including recipes and video content.