The content is accurate at the time of publication and is subject to change.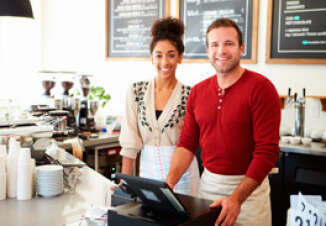 When it comes to running small businesses Millennials feel like they have more control than their GenX and Baby Boomer counterparts, according to a new study by Chase. The generations show differences in other areas as well including reward programs, technology and social media.
Chase's Survey for the Ages asked small business owners from three generations--Millennial (18-34), GenX (35-50) and Baby Boomer (ages 51-69) – about key business topics. They found that 35% of Millennials felt in control of their businesses, verses 24% of those from GenX and 29% of Baby Boomers.
While older respondents often found being a small business owner challenging, Millennials found it to be an easier ride. What about growing their business? Here GenX (69%) and Millennials (68%) agreed that it's a priority, while fewer Boomers (53%) thought so.
Technology and social media pave the way
These days whether making payments or connecting with customers, technology is an important part of the process, something that is not lost on small business owners regardless of their age. Eighty-three percent of respondents cited the need to keep up with the latest tech to stay competitive, and 73% believe they are doing a good job.
But here Millennials also take the lead, with 86% feeling like they are on point when it comes to technology, while 66%of GenX and Boomers feel like they are up to date. "Small business owners of all ages know they need to keep up with technology, but they also need the tools to make the transition as simple and smooth as possible," said Laura Miller, President of Ink from Chase, the business credit card portfolio of Chase for Business.
Social media is a main area of focus for many businesses these days, with 60% of Millennials believing it is a key to doing business effectively, while less than half of GenXers (44%) and Boomers (46%) are convinced that social media is important.
Rewards get a thumbs up from Millennials and GenX
What about rewards and loyalty programs? GenX (64%) and Millennials (62%) both see them as being a must for connecting with customers, while only 40% of Baby Boomers feel the same way.
The survey was conducted July 9 to 14, 2015. They interviewed 900 small business owners (SBOs), who had anywhere from 1 to 99 employees.