The content is accurate at the time of publication and is subject to change.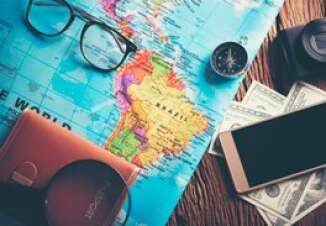 Heading out for a quick getaway or extended trip to de-stress is trending with travelers, according to Visa's Global Travel Intentions (GTI) Study. They also discovered that taking shorter trips and traveling more often is in the cards for many travelers around the world with, technology helping get around town while on the road.
Every two years, Visa takes a close look at different aspects of a travelers adventures, in order to uncover their motivations and strategies for making it a reality, as well as helping them get a bead on travel trends. They found that people are now booking eight-night trips (avg.) rather than the ten night stays they were booking in 2013.
Yet going hand in hand with this trend, they found that travelers from around the world are increasing the frequency of their trips, with people planning 2.7 trips over the next two years, up from 2.5 trips during the past two years.
What about American travelers? They have outpaced their counterparts, having taken the most trips. Last year they took 3.2 trips on average.
Tech and Destinations Resonating with Travelers
Technology was a breakout trend in the study, with travelers using it to navigate their trips from beginning to end. While abroad 88% went online while traveling, with 44% using ride-sharing apps to get around town. "We are excited to see the desire for global travel grow as technology becomes integral in every stage of the travelers' journey," said Lynne Biggar, Chief Marketing and Communications Officer, Visa.
"Using your Visa card abroad means a safe, secure, seamless and convenient experience, without the worry of carrying cash. As more people travel internationally in 2018, we look forward to helping travelers make the most of their trips," Biggar added.
Why visit one country when you can hit a few? Visa found that 11% of global travelers planned vacations that took them to a variety of countries, helping them get the most out of their trips.
The United States, Japan, and Australia were the countries travelers visited the most. What country was traveler's top destination globally? Japan overtook the U.S. taking the top spot as the most popular destination over the past two years.
Where people live tends to dictate which countries they prefer. For instance, people living in the Asia Pacific region tend to visit Japan, while American travelers favor Europe. Mexico, Canada, and Japan are also on their "to do" list.
Hey Big Spender
Saudi Arabian travelers were the study's top spenders, shelling out the dough on everything from airfare to their experience on the ground, with Chinese, Australian, American and Kuwaiti travelers finishing out the top five in this arena.
The Global Travel Intentions Study is conducted every two years and started in 2008. It was carried out by ORC International, a research and business intelligence firm, who interviewed 15,500 people located in 27 markets.