The content is accurate at the time of publication and is subject to change.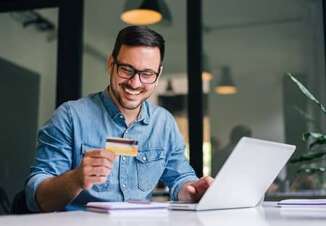 Upgrade launched the Upgrade Bitcoin Rewards Card, which has become the first credit card with bitcoin rewards that is generally available, and you can start using it immediately if approved.
The Upgrade Bitcoin Rewards Card is a Visa credit card that gives 1.5% back in bitcoin on every purchase as you make payments. Essentially it is a new version of the existing Upgrade Cash Rewards Visa® that gives 1.5% cash back on all purchases every time you make a payment. There are no categories, partners to shop at, and no points system. You simply use the Upgrade Bitcoin Rewards Card at retail locations or online and earn unlimited bitcoin rewards on all purchases when you pay them back.
As for the other terms, credit lines of the new Upgrade Bitcoin Rewards Card will range from $500 to $25,000, depending on your credit score. The APRs can range from 8.99% to 29.99%, but Upgrade encourages cardholders to combine monthly charges into installment plans that can be paid back over up to 60 months. So, you can pay down balances from each month at a fixed rate with equal monthly payments. Like other Upgrade credit cards, the Upgrade Bitcoin Rewards Card has no annual fees, late fees, or returned payment fees.
Upgrade has partnered with NYDG for the bitcoin rewards. Currently cardholders can either hold bitcoin rewards or sell them. If you choose to sell your bitcoin rewards, there is a 1.5% transaction fee.
While the Upgrade Bitcoin Rewards Card is available for application, it is not available in all 50 states. Customers in Hawaii, Indiana, Iowa, Louisiana, Nebraska, Nevada, New Hampshire, North Carolina, Washington, West Virginia, Wisconsin, and the District of Columbia can't get the Upgrade Bitcoin Rewards Card at the moment. Still, it's better than with other bitcoin rewards credit cards that are still in the waitlist mode. Thus, the BlockFi Bitcoin Credit Card was announced in December 2020, and Gemini followed suit a bit later. The first, , has recently become available for application, and the Gemini Credit Card is still offering to join the waitlist.