The content is accurate at the time of publication and is subject to change.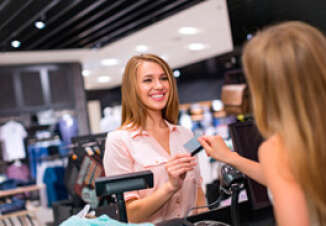 Visa, UnionPay, MasterCard, JCB, Diners Club/Discover, and American Express credit card brands all have one thing in common – in 2015 they saw an overall 16.1% upswing in revenues from merchants, generating $227.08 billion in purchase transactions, according The Nilson Report. This upswing included everything from commercial and consumer credit cards to prepaid cards and debit cards.
Visa outperforms the pack
The Nilson Report found that Visa cards, which includes Visa Europe and Visa Inc. made up 55.52% of all purchase transactions around the globe trumping its competition. Visa's debit cards are no slackers when it comes to usage, outperforming all cards, including Visa credit cards, setting the bar high by making up 35.50% of all purchases.
They were followed by the Visa credit cards with 20.02%, "When consumers worldwide reach into their wallets for a payment card, more than half of the time, they use a Visa card," said David Robertson, Publisher of The Nilson Report.
MasterCard credit cards came in with 13.14%. while their debit cards are on par with their credit card performance clocking in with 13.13%.
What about the rest? UnionPay credit cards took 6.79% of the payment pie, and their debit cards came in just under that with 6%. American Express cards earned 3.21%, and JCB cards with 1.23% caught up to Diners Club/Discover cards and passed them by since they took home 0.98%.
UnionPay shows the most growth
While Visa clearly took the lead of all the brands, UnionPay had the most growth, scoring the highest percentage increase, when it comes to transactions, growing in 2015 by 47% including both credit and debit cards.
Year-over-year growth hit 9.28 billion transactions, outperforming MasterCard's 8.09 billion gain, but it still left them trailing after Visa which had a 13.16 billion increase.
While you may assume that credit cards made up the most transactions that was not the case with debit and prepaid cards making up 54.63% of all purchase transactions, up from 2014's 54.05%.