The content is accurate at the time of publication and is subject to change.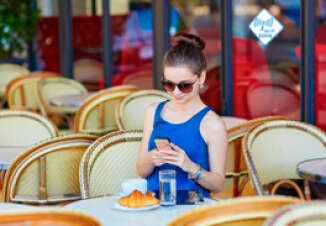 Have you ever used free public WiFi when traveling or in the mall, just because it was quick and easy? Well, if you have according to a new survey by AARP, you're not alone. But plugging in on public WiFi no matter where you are, may just put you on hackers' radar, and jeopardize your personal information.
In the "Convenience versus Security," report by the AARP Fraud Watch Network, 25% of people said that they log on to free public WiFi at least one a week, and sometimes more. And 27% have used it to do their banking during the past 90 days. Another 27% have used their credit cards in these spaces. "A free Wi-Fi network at an airport, hotel or coffee shop is convenient," said Doug Shadel, a fraud expert and AARP Washington state director. "But without a secure network, Americans risk oversharing, leaving themselves vulnerable to attacks by con artists and hackers."
To raise awareness about the downside of logging on to free public WiFi and how people can protect themselves, AARP is rolling out their "Watch Your Wi-Fi" campaign. In August they will begin providing people with access to free cyber security forums at their state offices across the U.S.
More high risk behaviors unveiled
While most of us lock our doors, according to this study 26% of people using smartphones don't use passcodes to protect themselves and their data, and 61% can't access their bank accounts online.
Of those who do at least some of their banking online, just about half have the same password that they did 90 days ago. AARP experts suggest changing your password every three months.
AARP also did a study on wireless and online safety, and just about 45% of people failed, with at least 40% unaware that certain behaviors could be trouble, including:
Using the same password on all or even some of the websites you use can be a set up for hacking, even if you use one that is a mix of numbers, symbols and letters.

Even if you're not using the Internet in an area where a public Wi-Fi network is available, it's a good idea to disable your wireless connection.

It is unsafe to use public WiFi to access websites containing personal and financial information, including banking and credit card sites, even if it's secured by https.
How to thwart hackers
On "Watch Your Wi-Fi" you can find an article called "Four Things Never to Do on Public Wi-Fi" giving people tips and information, that can help them up their safety factor.
Did you know?
Con artists set up their own unsecured networks featuring names that might seem legitimate, but aren't, with names similar to a legitimate coffee shop, hotel or other free Wi-Fi network.

Email, online banking and credit card sites should never be accessed via public Wi-Fi.

Taking charge of your WiFi settings by not letting your phone automatically connect to any WiFi in the area can protect your data.

Talking on your phone is great, but try not to surf sites that require your personal data, while you're in unsecured public spaces.
The survey was conducted by Alan Newman Research between April 2 through April 11, 2015 via telephone, both land-line and cell. All respondents were 18 years or older and went online at least a few times during the month.