The content is accurate at the time of publication and is subject to change.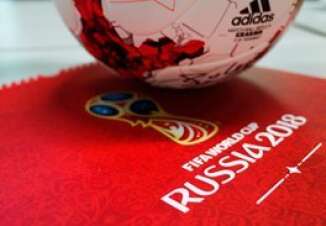 People who are heading to Russia for the 2018 FIFA World Cup will be able to take advantage of a cash-free environment if they want to travel light. Visa is the Official Payment Service Partner of FIFA and is setting up point-of-sale terminals so fans can easily use their Visa credit or debit cards. For people who love using their smartphone or watch to make a purchase, the terminals will also be outfitted so they can use their digital wallets too.
The games will be taking place in June and July of 2018. They are expecting an upswing in the number of people heading to Russia due to the games, and have included technology innovations to streamline people's experiences. "As the Official Payment Service Partner of FIFA, Visa is excited for fans all over the world to join us in Russia," said Ekaterina Petelina, country manager, Visa Russia.
"From unveiling the latest payment innovations to upgrading payment terminals to allow for contactless cards and digital payments, such as those made via phone or watch, throughout official venues, Visa will continue to elevate the fan experience. Visa provides simple and secure payment options for those in attendance, so they can get back to their seats quickly and focus on the match," said Petelina.
Projected uptick in visitors to Russia
Visa has released spending and travel data for the 2018 FIFA World Cup. Based on this data they believe that 300,000 to 500,000 people will be heading to Russia for the games from locations around the world.
The data from the last four FIFA World Cup tournaments according to Visa suggests that international travelers will generate a 6% to 10% uptick in visitors to Russia during that time. Where will these visitors be coming in from?
All over the world, including:
Europe 69%
Asia Pacific 12%
Americas 8%
Uptick in spending too
Visa also projects that spending at the events will be up, with this projection based upon the spending trends from the 2014 FIFA World Cup Brazil.
While in Brazil for the games people spent 31% more on each of their cards than other tourists, who were not going to the games. FIFA World Cup fans spent more in a variety of areas, including:
A 25% plus uptick in spending at restaurants
A 10% plus increase in spending for transportation
Close to 10% more in accommodations