The content is accurate at the time of publication and is subject to change.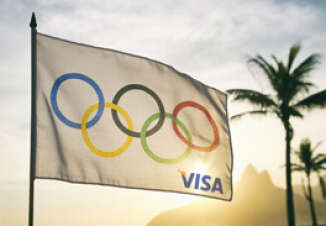 In keeping with the Olympic spirit in Rio this summer, Visa will be orchestrating an Olympic first of their own by rolling out their new payment ring. The first NFC-enabled, tokenized payment ring will be given out to the forty-five members of Team Visa, who are competing in the Rio 2016 Olympic and Paralympic Games.
Once they slide it on their finger they will be able to make purchases with their ring – all they need to do is tap their ring on an NFC-enabled payment terminal and go, whether they are getting souvenirs, food or a beverage.
The new Visa Payment rings represent a breakthrough in technology, one Visa is excited to bring to the Olympic Games. "Visa's first payment ring puts smart payment technology right on the hands of our athletes for convenient and easy payments," said Jim McCarthy, executive vice president of innovation and strategic partnerships at Visa Inc. "This ring is the latest example of how Visa is continuously innovating to deliver on its goal of universal acceptance at the games and across the world."
The inside track on the Visa Ring
The Visa Ring was designed McLear & Co. and comes along with a security-enhancing microchip by Gemalto, plus there is an embedded NFC-enabled antenna included in its design which lets it make contactless payments.
Will the athletes have to keep an eye on the rings battery pack? No. It doesn't work on batteries unlike many other wearable payment tech, nor does it need recharging. It is also water resistant and people can take it down to a depth of at least 50 meters.
For Olympic gold medalist Missy Franklin, this means she can wear her ring in the pool and then go buy something without missing a beat. "As an Olympian, rings have a special meaning to me," said Franklin, a four-time Olympic gold medalist and Team Visa athlete. "The Visa ring is a great innovation that I know all the athletes competing in Rio will enjoy as it will be great to go from a competition to purchase without having to carry a wallet or card."
Its all about the tokens
The rings use Visa's token technology, which means when payments go through, rather than transmit the user's sensitive financial data, it sends along a token, which makes it harder for cyber thieves to hack users' accounts.
Visa is the exclusive payment provider at the Rio Games. During the events Team Visa athletes with rings or fans using their credit cards, Visa Checkout or their mobile devices to make payments, they will be able to use their accounts before and during the Olympic games.
Visa will be setting up just about 4,000 NFC-enabled POS terminals for the Olympics, which can be used to make mobile and wearable payments at all the key Olympic venues, the U.S. Olympic Committee's USA House and Copacabana Megas.