The content is accurate at the time of publication and is subject to change.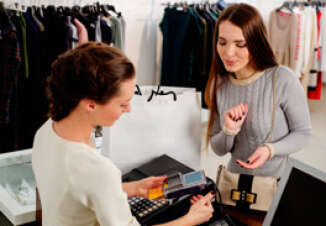 If you felt like checking out at the register took longer using the new EMV credit and debit cards, in most cases you were right. But now Visa is doing something about it by launching Quick Chip for EMV. This new program is an upgrade to their software, one that streamlines the process, optimizes transactions and gets people off the checkout line faster.
With the new technology people will be able to dip their cards for two seconds or less. "Visa is advancing a streamlined approach to chip transactions to make them faster and more efficient, while still providing a safe and secure experience," said Mark Nelsen, senior vice president of Risk Products and Business Intelligence, Visa Inc. "Quick Chip for EMV helps make the checkout experience comparable to the ease and speed of magnetic stripe transactions."
Easy fix for shopkeepers and businesses
The Quick Chip program is being offered free of charge by Visa to payment processors, banks, and other payment networks, so they can easily offer the upgrade to retailers.
For retailers, the new program simply means a software upgrade for terminals or POS systems, so there is no hardware to change or swap out. Once installed, it will work with all verification methods, whether that is signature-based or the cardholder enters a PIN.
Along with letting customers simply quickly dip their cards at the register, the processing times are faster. How so? The card can be dipped and removed while the order is still being rung up, increasing checkout times.
Helping make EMV chip adoption a reality
Quick Chip is seen by Visa as a way to help move along the transition in the U.S. from traditional stripe-based technology to EMV chip technology, which safer when it comes to hacking and preventing identity theft.
Right now banks and institutions have issued 265 million Visa credit and debit chip cards, and over one million shopkeepers and merchants have installed the chip-enabled payment terminals, which is about 20% of the merchants that need to upgrade.