The content is accurate at the time of publication and is subject to change.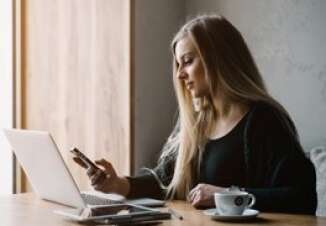 Would you give up your morning coffee if it meant you could get paid faster? For a third of Americans, the answer was yes, according to a study by Viewpost, finding that they would forgo their morning joe if it meant that cash would land in their bank account faster. They also found that while 11% of Americans prefer getting paid using next generation or app-based payment methods, like Apple Pay, Google Pay, Bitcoin, Venmo and Samsung Pay, 48% have yet to take the plunge.
In the study, Viewpost, a B2B network, looked at how American consumers felt about payments and whether or not they are using the newer payment technologies currently available to them. Direct deposit is in style for more than half of people, preferring to forgo getting a check.
Yet they still feel the need for speed, while a third would give up their coffee to get paid faster, 14% went a bit further saying that would give up their mobile phone.
Next generation payments
Besides speed, part of the allure of next-generation payments is that people can get paid and send money no matter where they are, whether that's in a store, the gym, online or anywhere else using their mobile device or computer.
These new technologies remove the need for having cash or their wallet on hand from the payment equation.
And according to the Viewpost study, 80% of people using these next-gen payment methods log on with their smartphone. That said many consumers in the United States have yet to trade in their tried and true methods of getting and making payments for the convenience of these newer methods.
Opportunities for businesses too
Viewpost points out that these new payment methods can expedite day-to-day payments for businesses as well. "When consumers split a bill using Venmo or make a payment using Apple Pay, they are experiencing immediacy, convenience, and security that were not possible a few years ago," said Viewpost CEO Max Eliscu.
"Businesses are seeing a similar growth in opportunities from payment technology, where multiple methods can be sent and received efficiently—including single-use virtual credit card payments that deliver speed and convenience to the supplier and cash-back rebates to the buyer. However, the sweeping benefits of payment capabilities available today have yet to be fully realized by the majority of the business community. As the survey supports, consumer preferences will likely change this in the near future," he said.