The content is accurate at the time of publication and is subject to change.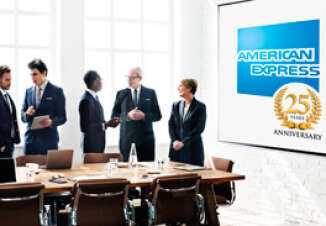 The American Express rewards program was launched 25 years ago, and to celebrate they are rolling out their Anniversary Collection, a curated series of once-in-a-lifetime sports, entertainment, and dining experiences, all of which can be paid for with rewards points.
The experiences include everything from notoriously hard to get tickets to the hit Broadway show Hamilton to seven days of island hopping in the Indonesian Archipelago with Adventure Photojournalist, Laura Grier.
In 1991 when they rolled out their rewards program it was the first of its kind, and this new collection is seen as a way not not only celebrate but give back.
"Since we created the first credit card reward program in 1991, our Card Members have fueled millions of rewarding and extraordinary experiences with Membership Rewards points," said Christopher Cracchiolo, VP Membership Rewards & Loyalty Benefits, American Express. "We're thanking our Card Members by bringing together some of the most exclusive access we have, and opening up those experiences to Card Members on points. We also wanted to make extraordinary experiences happen for those in need, and we're thrilled to work with Make-A-Wish to help grant 25 wishes this year."
More once-in-a-lifetime on AMEX
With the launch of this new anniversary collection cardholders can choose from a wide variety of experiences and items, which might mean scoring tickets to sold out and hard to get shows, sporting events and art extravaganzas.
These picks include:
• A private dinner at the Galleria dell'Accademia with a closeup view of Michelangelo's David
• Private mixology classes
• An Ultimate Golf Day
• A Winemaker led Private Vineyard Tour and Picnic
• A Nike Campus tour
Cardholders can also trade points for an NFL football autographed by Joe Montana, an NFL legend, or pick up consumer faves like an Tumi Tegra-Lite Max Continental Expandable Carry-Ons, or get a good nights sleep with The Dream Team: The Casper sattress, pillows and sheets.
People can check out more of the offerings on the website.
Making dreams come true
Amex members can also use their points to donate to their Make-A-Wish Foundation. Their donations will help the organization make dreams come true for 25 children with life-threatening illnesses.