The content is accurate at the time of publication and is subject to change.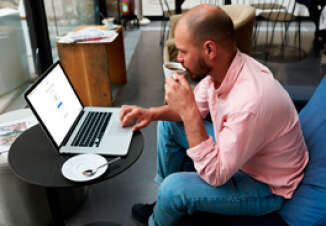 Identity theft is one of consumers' top concerns, and for those over the age of 50, it can be an even bigger worry. About 25% of New Yorkers aged 50 and older have had their identities stolen or been victims of credit card fraud, and 75% of that same demographic rank identity theft as their number one concern when it comes to fraud crimes.
To help people – especially older folks – stay safe from identity theft and other types of fraud, Google and the AARP Fraud Watch Network outlined five guidelines to help ward off fraud:
1. Be careful with public Wi-Fi. Unfamiliar networks can pose a problem, because scammers often set up phony wireless networks that sound like public places like hotels, coffee shops, libraries, and the like. These networks are designed to lure unsuspecting folks in search of a signal, and the fraudsters will then steal your information when you log on.
2. Stay on guard against tech support scams.If you get a phone call from someone telling you your computer has a virus or other malware problem, beware: this is a scam. Hang up immediately. Do not click on any links they send you or give them any usernames or passwords. If you have a problem with your computer, take it to a trusted repair person or directly to the manufacturer.
3. Never give out sensitive personal information over email, text message, or social media. Even if someone claims to be from an organization or business you know, be wary. It's a good rule of thumb to never provide usernames, passwords, or other personal data to someone else if you didn't initiate the contact.
4. Use different passwords for different accounts. If you use the same password for multiple online accounts and a criminal gets hold of it, all your accounts will be at risk. Choose different passwords and keep track of them, even if it seems like a hassle. Keep in mind that having all your accounts hacked is worse than keeping track of several passwords.
5. If you use Gmail or Google Accounts, take advantage of the Google Security Checkup. Provide a backup phone number so Google can get in touch with you if you get locked out of your account, set up 2-step authentication to keep your account extra safe (think of it like having an extra lock on your front door), and take a look at the recent activity on your account to make sure it actually came from you.
The AARP Fraud Watch Network's Watchdog Alerts notify users of common scams in their area including things like phishing, malware, and tech support scams, and tells folks what to do if they fall victim to them. Rosa Maymi, manager of programs at AARP, said online scams "are growing in number and sophistication. As greater numbers of people age 50 and over go online for news, to participate in social networks, and to shop and bank, they need to know how to protect their online identity."