The content is accurate at the time of publication and is subject to change.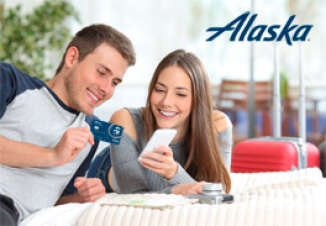 Companion tickets can be a great way to have some company on your trip and save money, something that Alaska Airline is well aware of having made their companion fare offer more lucrative for people who apply for and get the Alaska Airlines Visa Signature credit card during May and June.
When new cardholders book a regular ticket with the airline they will then be able to pick up their first companion ticket for the price of the taxes and fees.
With this offer, new cardholders get to skip the $99 fee that is usually charged for a companion ticket. This offer is good for the first companion ticket they book for a family member or friend, and for the first year they have the card. "For the next two months we're taking one of our best credit card benefits and making it even better," said Ryan Butz, Alaska's managing director of loyalty marketing.
"Since we introduced the companion fare in 1999, guests have saved hundreds of millions of dollars on companion airfare, and we can't wait to introduce this popular benefit to new cardholders," he said.
Companion ticket Alaska style
For people with the Alaska Airlines Visa Signature credit card, the companion fare is a nice bonus, letting them bring along a friend or family member when flying with Alaska or Virgin America for $99, along for the cost of taxes and fees. These fares typically start at $22 depending on the destination.
There are no blackout dates with this perk, and they can use it for all coach fares, regardless of the day or time they want to travel. That said the fare needs to be booked directly through the airline's website and not through a third party vendor.
Miles and perks
Alaska Airlines and Virgin America have merged so cardholders booking flights via Virgin America get the same perks and benefits as they did before. These perks include getting one free checked bag for the cardholder, along with six other companions on the same reservation ticket. They also earn three miles for every dollar they spend when flying on either Alaska Airlines or Virgin America.
With the Alaska Airlines Visa Signature card people earn one mile for every mile they fly, and they can book one-way tickets starting at 5,000 miles. Also, if they are elite members they can take advantage of free upgrades.