The content is accurate at the time of publication and is subject to change.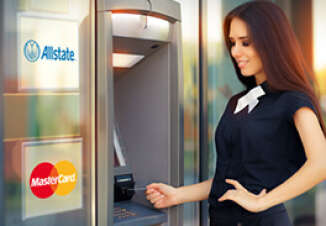 Did you ever wish your insurance claim could be paid right away and deposited into your account? Well if Allstate is your insurance carrier you are in luck. A new partnership with MasterCard has paved the way for them to be able to do just that with the launch of their QuickCard Pay. Now all they need to make the payment is a debit card and e-mail address.
According to Allstate, it is the fastest method for them to make payments to customers in their Allstate ExpressPay network. How does it work? They worked with MasterCard so they could leverage the MasterCard Send platform, letting them make instant payments. With this partnership they are first Property & Casualty company in the U.S. to offer this real time payment option to their customers.
"It is very important to people to get the quickest access to the funds you need when an emergency occurs—whether that be with your home, your car or your business," said Matt Barr, senior vice president, Digital Payments and Labs, Mastercard. "We built MasterCard Send so partners like Allstate can provide claimants with the quickest means of receiving their payment on a claim. By using QuickCard Pay, Allstate claimants will now have nearly instant access to these funds sent to almost any bank account through a U.S. debit card."
Fueled by MasterCard Send
MasterCard Send was developed to provide consumers, governments, non-profits, issuers and businesses a fast safe way to send money.
The transaction passes through a single link going straight to the MasterCard Send platform, where payments, which would otherwise be made via cash or a check, are digitized and sent directly to the recipient. This system gives both the sender and the person getting the payment an added layer of security when it comes to transferring funds and making payments.
The Allstate Corporation has been in the insurance business for 85 years. The insurer provides just about 16 million customers with all types of insurance, including auto, home and life. They also provide insurance to people via other brands including Esurance, Encompass and Answer Financial.