The content is accurate at the time of publication and is subject to change.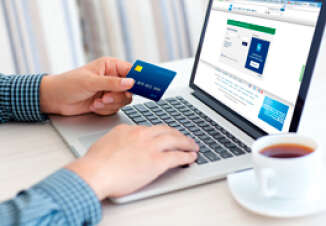 American Express is poised to give Paypal a run for their money with the roll out of Amex Express Checkout, a free alternative payment system, which lets cardholders easily checkout at their partner retailers, whether they are looking to buy a computer at Newegg or score some tickets with Ticketmaster.
Since Amex Express Checkout is not a mobile wallet cardholders do not need to do anything, except log in to their existing American Express account, either online or in the app using their current user ID and password. Once they do, and they are ready to make a purchase at the point of check out the payment system adds the user's payment information.
Statement credits for everyone
From now until September 7th cardholders will receive a one-time $10 credit to their statement for each merchant that they make a purchase at using the new payment system. Right now Warby Parker, The Wall Street Journal, Sabon, BarkBox, Burberry, Ledbury, Newegg, and Ticketmaster have signed on, and purchases at these retailers are eligible for the credit.
They have teamed up with Stripe so that retailers and merchants using the Stripe payment platform will be able to integrate Amex Express Checkout into their payment options, so additional retailers are expected to be joining the network over the coming months, including Avis Car Rental, Gap, Intermix, Old Navy, POPSUGAR Must Have, Rocketmiles, 1-800-FLOWERS.COM, Banana Republic, Cole Haan, and Hulu.
Tokens are in style
When the cardholder makes a purchase with Amex Express Checkout their card information is sent to the merchant via a token, which adds an additional layer of security on to the transaction. Tokens are also used with the new EMV technology being embedded into credit and debit cards. Since the payment system adds the card information in automatically its guaranteed to be up-to-date, so the data does not have to be manually updated.
This new payment system is seen as being a way for American Express to bring cardholders and merchants more of what they want. "We know our Card Members and merchants want a simple, fast checkout process to make online shopping easy and delightful," said Leslie Berland, executive vice president, Digital Partnerships & Development at American Express. "Amex Express Checkout leverages our unique technology to create a checkout experience unlike any other, one that is valuable to merchants and secure for Card Members, giving them peace of mind."