The content is accurate at the time of publication and is subject to change.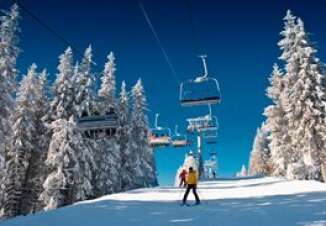 American Express cardholders who are heading to Aspen Colorado this winter can pick up exclusive reservations for the EMP Winter House starting November 15th, while Platinum cardholders can get access to special events at the pop up restaurant. The cuisine featured at the popup is inspired by Chef Daniel Humm's childhood in Switzerland.
Only American Express cardholders can get reservations and the only form of payment is the American Express credit card. This is the first time the EMP Winter House has opened up shop in Aspen, and it will be located at the Chef's Club in the St. Regis Aspen Resort. Reservations at the exclusive pop up restaurant will be available from December 15, 2018, through April 30, 2019.
The EMP Winter House and it is due to a partnership between American Express, Make it Nice and Eleven Madison Park. "We are thrilled to be partnering with American Express again to launch the first-ever EMP Winter House in Aspen," said Will Guidara, restaurateur and co-owner of Make It Nice.
"After two consecutive summers in East Hampton at EMP Summer House, and with the opportunity to tap into Daniel's Swiss roots, it was a no-brainer to bring the experience to an exciting winter destination and Aspen is the perfect place to do it," he added.
Food, drinks, and fun
American Express cardholders have a choice of location when they make their reservations. They can eat inside the venue or they can go for a table in the newly built Yurt Village in the restaurant's courtyard.
What will be on the menu? They are featuring a variety of Swiss-based dishes including Smoked Trout Toast, Veal Schnitzel, and Fondue. "Each creation on the EMP Winter House menu hits so close to home for me personally. To be able to share these dishes with guests as they dine in Aspen is incredibly special," said Chef Daniel Humm.
While some may want dinner the venue will also be offering lunch on the weekends, along with an Après Ski menu, offering seasonal snacks and beverages during the afternoon.
Those looking for to chill out with a drink or two can choose from a wine list that includes different 250 wines.
Special events with Platinum Card
People who have a Platinum card will be able to take advantage of special experiences and events curated by Will Guidara, and Chef Humm. First up is the By Invitation Only event happening on December 14th - the day before the official opening. While at the event cardholders will be the first ones to taste Chef Humm's dishes and check out the restaurants Yurt village.
Cardholders who want to make a reservation can do so by visiting the website, while Platinum cardholders can check in with the Platinum Concierge to get a table.