The content is accurate at the time of publication and is subject to change.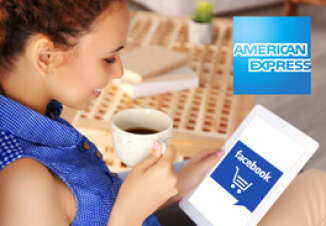 If you have been on Facebook lately you may have noticed that they have begun to add in eCommerce shopping features, letting people buy everything from clothing and jewelry to games and gifts directly through the social media platform's app.
American Express has now made it easier for cardholders to make purchases on Facebook with the launch of their new new Add a Card feature for the Amex bot for Messenger, designed to let people pay with their Amex card on the social media platform.
The new feature lets U.S. Consumer and OPEN Card Members who are on Facebook add their card and billing information directly into the Facebook matrix, so they will be able to pay for merchandise via Facebook.
Add in your card and you are good to go
To get started people can go to the website in order to enable the Amex bot for Messenger. They will need their AmericanExpress.com user ID and password to link their card with Facebook Messenger. Once in the system they can add the card into their Facebook account by opting in when they are linking their Amex Card to Messenger.
Cardholders who are into the games you can plan on the social media stream will be able to make in-game purchases giving them more options, as well as buy merchandise via the Shop sections of business' Facebook pages.
Security is on many minds when it comes to shopping online and via apps so American Express indicates that they have taken this into account, and have worked with Facebook to make sure that their cardholders personal information and account data is protected.
A long history
Facebook and AMEX have worked together in the past and this new feature is seen as being an uptick in their relationship. "This most recent step in our long relationship with Facebook demonstrates just how quickly American Express can iterate new features and develop innovation with great partners," said Dave Wolf, vice president, Digital Partnerships & Development, American Express.
"The speed of our tech development continues to allow us to meet our Card Members where they are, and we look forward to the additional benefits we can deliver to Card Members on this powerful channel."