The content is accurate at the time of publication and is subject to change.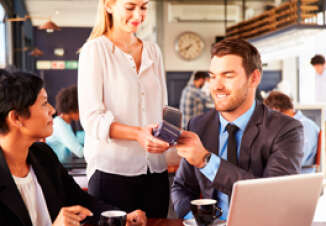 American Express has given their mobile app an overhaul, providing cardholders with access to more options and new features, including letting them use their rewards directly from the app, real time fraud alert verification and a map letting them know about nearby offers. The Amex App is available for iPhone and Android users – and can be synced to small business, corporate, and personal accounts.
The new app is seen by American Express as being a way to give their customers greater reach and flexibility. "Mobile allows us to deepen our relationship with Card Members by helping them better access the benefits, rewards and security they get with American Express. With the redesigned platform, we're just getting started to make all the amazing services we offer our Card Members come alive in mobile," said David Yoo, senior vice president, Mobile Products and Services.
Touch ID, rewards, security and more
With the new app people with iPhones and iOS 8+ enabled devices can access the app using the phones Touch ID. All users can pay their bill on the go, view payment status, pay on the go, access transactions in real time, including pending and posted charges via the apps time line.
People can use their reward points directly from the app for eligible purchases. They can also view reward balances, and check out AmEx benefits with the app. What about special offers? Yes, cardholders can check out offers for travel, dining and shopping directly from the app.
Instant fraud alerts are part of the apps' portfolio of features, so people can see if there is an issue with their account in real time, as well as being able to verify charges while in the app.
The AMEX Mobile App can be downloaded directly from the App Store and the Google Play. People can also text AMEXMOBILE to 86509, and they will receive a download link to their phone. To do this their iPhone should be running iOS 7.0+ or higher and Android phones should be running 4.3+. Data and message charges might apply based upon your cellphone plan.
American Express has created a video showing the new features of the app, which is available via youtube.