The content is accurate at the time of publication and is subject to change.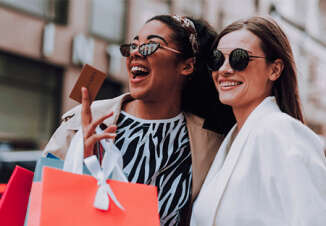 American Express is now offering a new limited-time bonus to consumer cardmembers. This October, existing Amex cardmembers can get increased rewards and a bonus for referring a friend.
The new limited-time offer is called "Three for All" and will run through October 28, 2020. To participate, check the refer-a-friend page for each of your consumer Amex credit cards. If you see the words "Refer a Friend Three for All," then you are eligible. When you refer a friend for any Amex product, and your friend gets approved for it, you will earn 3 more bonus points or 3% more cash back for the next three months.
For example, if you have an Amex Green Card and take advantage of the offer, your additional rewards will look like this: among other rewards, 3X Membership Rewards® Points on Restaurants will earn 6X (3X + additional 3 points) and 4X points on other purchases (1X + additional 3 points) during the 3-month offer period.
Those are not all rewards, though. If your referred friend is approved for an Amex credit card, you can earn 7,500 points for each approved referral, up to 55,000 points. The amount of the referral bonus will vary with the card, so this number may be different depending on the card you have.
Amex cards that are not eligible for the limited-time offer are Business Cards, Corporate Cards, Prepaid Cards, American Express Cards issued by other financial institutions, and/or older versions of current U.S. Consumer Cards.