The content is accurate at the time of publication and is subject to change.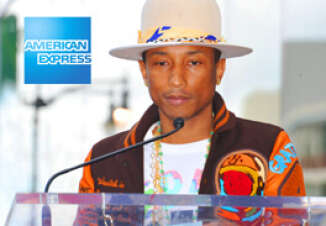 Amex and Pharrell Williams have a history of collaboration, with Williams and Spike Lee collaborating for American Express Unstaged in 2014. But they have kicked up the volume on their relationship with the announcement that Williams is taking on the role of Creative Director of the Platinum Card for American Express.
In his new role Pharrell will bring his innate creativity to the table and help inspire American Express Platinum Card services and global experiences and services.
And he is stoked to be taking on this role. "I'm excited to be partnering with such a globally respected brand as American Express to inspire new innovative and creative premium experiences and work together to enhance the future of the Platinum Card," said Pharrell Williams.
Consumer trends are constantly evolving whether that is in regard to travel, music, dining, fashion or art, and part of this partnership involves Williams bringing his own brand of creativity to the partnership. "We want the Platinum Card and the experiences it offers to be influenced and shaped by our Card Members, so we're thrilled to be working with long-time Card Member and creative visionary Pharrell to lead some of these efforts".
They definitely have history
Amex and Pharrell Williams definitely have history, reaching back to 2014 when he collaborated with Spike Lee to kick off that years American Express Unstaged live-streaming concert series, which took place at New York's Apollo Theater.
While Williams performed, Spike Lee directed the event, where people could virtually attend the concert, and take part in a wide range of of pre-show and in-concert digital content and events, so they had a full on virtual concert experience.
At that time Spike Lee was the first director to take on two shows for Amex, having already teamed up with them to direct John Legend & The Roots back when the concert series started in 2010.
Williams had a long and successful history in the music business, but it was his Grammy-nominated song Happy which took the charts by storm and launched his solo career.