The content is accurate at the time of publication and is subject to change.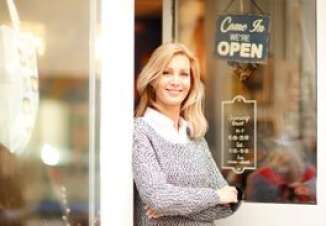 It's almost time for American Express' eighth annual Small Business Saturday, taking place November 25. This event promotes and supports small local businesses across the United States, from local bookstores and cafes to candy stores and tea shops.
American Express has partnered with a variety of businesses and communities to raise awareness about local businesses and give the excitement level a boost. These events include everything from Etsy based craft pop-ups in major cities and an extravaganza at the Museum of Ice Cream in San Francisco to a special Record Store Day album promotion.
"We are proud to see how Small Business Saturday continues to inspire communities. This year we will again celebrate the small businesses that make our neighborhoods feel like home," said Elizabeth Rutledge, executive vice president, Global Advertising, and Brand Management at American Express.
"We've seen firsthand that when small businesses thrive, our neighborhoods, towns and cities thrive. So this Small Business Saturday we encourage everyone to visit the diverse range of small businesses that make up the fabric of their communities," she said.
Getting crafty with Etsy
American Express has partnered with Etsy in order to get the word out about small business owners selling their wares online. On Small Business Saturday sellers from Etsy will be setting up pop-up markets in a variety of cities in the U.S., including San Francisco, Los Angeles, New York, San Antonio, and Wichita.
These markets will give people a way to pick up gifts for themselves or others, that are not only locally crafted but one of a kind as well.
Communities promoting their own
Since the first Small Business Saturday was launched in 2010, American Express has engaged communities to help get the word out about Small Business Saturday. And this year that trend continues with a variety of community-based events slated to take place that day.
Some of these events include:
Sweet Snaps with Museum of Ice Cream – an event where people can check out happenings at the San Francisco location, which includes grabbing photos of special installations at the museum, as well as sampling treats from local merchants
Rock Out with Record Store Day – the release of special edition live double album by Dawes, a Los Angeles-based band, will be available at record shops taking part in this promotion
Find Community at The Wing – in New York City, the Wing will host a panel made up of women business owners, designed to empower and educate women entrepreneurs. A pop-up bazaar in SoHo is also part of the festivities, comprised of wares made by The Wing's members, as well as other women-owned businesses in NYC
Discover New Stories with Indies First – the American Booksellers Association has organized a variety of events and activities at books stores throughout the U.S. to support small book stores.
People can get more information via the website.