The content is accurate at the time of publication and is subject to change.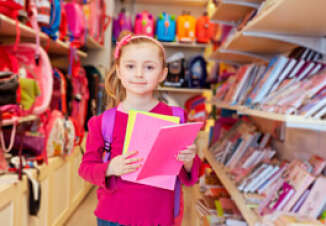 Back-to-school shopping is trending with consumers and they will be spending more this season since their confidence in their financial picture is on the rise, according to a new study by Synchrony Financial, with 59% of parents and 40% of college students feeling good or in some cases great about their financial horizons.
This renewed confidence in their finances is expected to translate into an upswing in back-to-school shopping and sales landing between 3.2% and 3.7%. Shopping is already underway and expected to continue during September.
But even with this increased willingness to spend, price and rewards are expected to set the tone for back-to-school buying. "Price and value continue to influence where shoppers buy for back-to-school," said Bart Schaller, EVP and chief marketing officer, Synchrony Financial. "We consistently find shoppers are deal-driven and value the additional savings, rewards and benefits credit cards can offer."
What's trending
If you were thinking that clothing of all kinds, shoes and electronics were on people's shopping lists you would be right – and they make up the bulk of their lists. With a third of shoppers expecting to spend more this year on both categories than they did last year.
Will they be budgeting? Well, over half of parents will be setting budget limits, and of those 39% will in all likelihood be making their budgets on a per child basis.
Just about half of parents are already in the thick of back-to-school shopping, but 51% of parents and 67% of college students will be doing theirs in the dog days of August.
Pens, pencils and all the rest will cost you
With 39% if parents expecting pens, pencils, pads and the rest of actual school supplies to cost them more this year, half of them said that if they could pay a fee to the school to outfit their kids with basic school supplies they would.
While shopping online is big with consumers, when it comes to back-to-school shopping actually going to the store trumps cyber shopping for 65% of parents and 61% of college students. With college students planning on staying local to do their shopping.
For the Synchrony Financial Back-to-School Study they interviewed over 1,850 parents and college students across the U.S.