The content is accurate at the time of publication and is subject to change.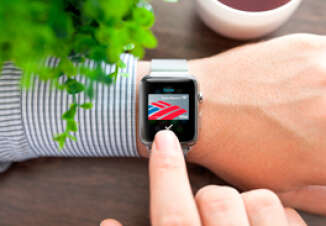 Bank of America has give its mobile app an upgrade with fingerprint and Touch ID sign in, letting users login quickly to manage everything from their credit cards to their loans. They have also included a streamlined account overview page and a new security center, in addition to making it compatible with the Apple Watch.
With security on people's minds these days with data breaches and hacks in the news, these new additions are seen as a way to boost security as well as usability. "We continue to deliver enhancements that provide our customers a more seamless and secure banking experience," said Michelle Moore, head of digital banking at Bank of America. "This is another example of how we are helping our mobile and online banking users simplify their financial lives."
Security, security, security
The app uses fingerprint and Touch ID sign-in technology, which can be used with Apple and Android devices. This lets people move within the app without having to enter their passcode each time. The fingerprint ID aspect of the app was developed using FIDO (Fast IDentity Online) standards to ensure security.
In keeping with this theme the new Security Center gives users of both online and mobile services a wide range of tools to help them manage their finances safely. From the command center they can review and use additional options for signing in and monitoring activity across all their accounts including credit cards, savings and checking accounts and loans.
For people who want more than fingerprint security they can opt into an extra feature, which verifies their identity with a one-time authorization code received by email or text every time they sign in.
Apple Watch and more upgrades
Apple Watch wearers can now check out their account balances, as well as review new and recent transactions. They can also receive real time notifications and alerts if there seems to be an issue with any of their accounts.
Some aspects of the app have been revamped including the home page and online banking "Accounts Overview" page, and with these updates people get a more personalized and smoother experience when doing their banking. New quick link tiles lets people move through the app quicker, and lets them easily navigate mobile check deposit, and appointment scheduling, as well as open new accounts.