The content is accurate at the time of publication and is subject to change.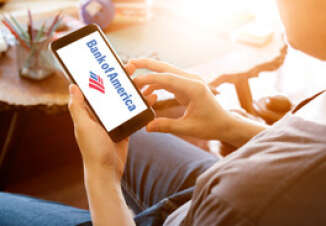 Bank of America has upped the ante by re-designing their mobile app giving users a variety of new upgrades, offering more control over their day-to-day spending and finances. The new features include intuitive navigation, a Spanish-language option, and the ability to use the app to redeem rewards. Cardholders will also get access to their FICO score via the app.
These upgrades acknowledge just how popular mobile apps are with consumers and are seen as a way to expand their reach. "Our clients increasingly rely on their mobile devices to navigate daily life and manage their finances, and now we are excited to give our Spanish-speaking clients enhanced access to our mobile capabilities," said Michelle Moore, head of Digital Banking. "We want to be where our customers are, which is why we are proud to deliver these new features that provide increased convenience to our 20 million active mobile users."
The upgrades are...
With this app people will now be able to redeem rewards when using their BankAmericard Cash Reward and BankAmericard Travel Rewards credit cards. They will be able to check out what rewards or how travel purchase points are available, and then redeem them directly through the app.
Whether you're driving, flying or using a mobile app navigation is key, and the new features takes this into account. The Bank of America app was designed leveraging what they consider to be the best of the iPhone and Android technology, with a version available for both smartphones. The navigation now provides a more seamless experience for users, as well as being more intuitive, including menus that make finding your way easier.
People can decide if they want to use the English or Spanish version of the app by accessing the app's settings. If they have already set their banking profile to Spanish the system will ask the user to confirm, and the same will happen if the phone is already set to Spanish.
Check your FICO Score
The app also gives people access to their FICO score directly in the app, and the ability to check out what factors are responsible for the score. They will also be able to see how their score measures up with the national average.
reporting agency.