The content is accurate at the time of publication and is subject to change.
This content is not provided by Citi. Any opinions, analyses, reviews or recommendations expressed here are those of the author's alone, and have not been reviewed, approved or otherwise endorsed by the Citi.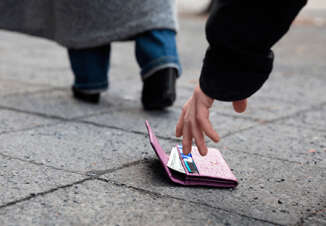 If you misplaced your credit card or lost it, you don't have to call the card issuer right away. Now you have a better option - lock your card until you locate or decide to replace it.
The feature that allows you to temporarily lock and then unlock your card is relatively new. Discover was one of the first who offered a "freeze it" tool in 2015. Today many major banks give their customers access to this convenient card control feature. Today you can temporarily disable your credit card and reactivate it later. Plus, some issuers offer even more control over credit cards.
Here are issuers that offer a pause feature:
Citi® Quick Lock: Allows cardmembers to lock/unlock their Citi credit card (Citi is a Credit-Land.com advertising partner) from the Citi Mobile® App or in the Citi online account. The feature instantly locks any new charges. However, any recurring transactions will continue without disruption.
Discover Freeze it®: The feature is available online, over the phone, or through Discover's mobile app. When you freeze your Discover credit card, all new purchases, cash advances, and balance transfers will be stopped. Other transactions, like returns, payments, rewards redemptions, etc., will continue to post to your account.
Capital One Card Lock: The card lock feature is available from the Capital One mobile app. When you lock your Capital One credit card, you instantly prevent all new in-store, in-app, and phone purchases. However, you can continue to return items, make payments, and redeem rewards while your card is locked.
Additionally, you can find the pause feature offered by these banks:
American Express Freeze your Card: prevents new purchases but allows recurring bills and digital wallet transactions. Your card will be automatically unfrozen in 7 days.
Bank of America Lock/Unlock: available to debit cardholders only.
Barclays SecurHold™: in addition to locking your cards, you can set transaction limits and block certain purchase categories for authorized users and even for yourself.
Chase Lock and Unlock: stops purchases and cash advances, allows digital wallet purchases, locks all cards that share the same account number.
US Bank Card Lock and Unlock: available through the US Bank mobile app.
Wells Fargo Control Tower: can restrict international use of debit cards, turn on/off digital card numbers stored in your devices.
The lock your card feature is completely free, and issuers do not usually limit how many times you can lock or unlock your card. And, of course, if you cannot find your credit card, you'll want to contact your credit card issuer. The issuer will send you a new credit card with a new card number.