The content is accurate at the time of publication and is subject to change.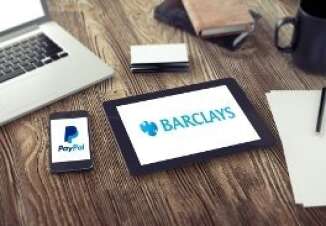 PayPal is the go-to payment method for some consumers, and those who have credit and debit cards with Barclays may be happy to know that the two are teaming up to explore ways they can make life easier for people using both platforms. With this deal, people using PayPal may be able to easily add their Barclays credit and debit cards into the digital wallet in order to make payments via the app, mobile device or online.
They may also be able to go into PayPal and update their payment cards automatically when their old card expires. These new features go both ways, people may also be able to manage their PayPal account via Barclay's digital channels too, thereby streamlining the entire experience for consumers.
This is a first for the two companies and is a way for them to give their customers in the United States and the UK more options. Both consumers and small businesses will be able to take advantage of these upgrades.
"Our customers and clients live in an increasingly connected world and this is why we are working with PayPal to make services more joined up and convenient for them. By joining forces, we can make it much easier for people to manage their money and payments. Each of these new features—whether removing the hassle of updating an expired card, connecting with Pingit or being able to see all your finances in one place, are about designing the very best customer experience," said Ashok Vaswani, Barclays UK CEO.
"Barclays is becoming a digital company and I believe this strategic partnership with PayPal will provide the first of many new developments in which we join up with partners to enhance digital journeys," he added.
More choices, more access to rewards and better security
PayPal and Barclays are also expected to take a close look at new ways they can link Pingit and PayPal so people can manage and transfer funds more easily.
These days earning and using rewards is very important to many consumers, so the duo will also look for ways that U.S.-based consumers can use their Barclays reward points at businesses that take PayPal around the world.
They will also be working together to fight online fraud by using their combined data analytics and risk management capabilities.