The content is accurate at the time of publication and is subject to change.
Citi ThankYou® Preferred Card for College Students offer has expired.
This content is not provided by Citi. Any opinions, analyses, reviews or recommendations expressed here are those of the author's alone, and have not been reviewed, approved or otherwise endorsed by the Citi.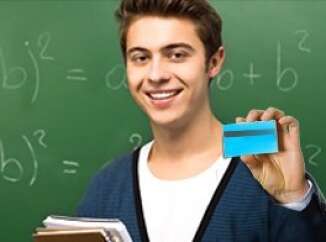 Families getting ready to send their college freshman off to school this fall have plenty to worry about - will their child be homesick? Will they study hard? Will they eat enough vegetables? The most pressing concern, however, might be whether or not their children will have enough money to buy the things they need away from home - but not enough to blow on pizza and partying.
MasterCard recently asked parents about their top concerns about their kids and money, and two out of five said they expect their college freshmen to run out of money within one month away from home.  Sixty-five percent said that their child's ability to manage their finances was their number one concern about sending their kids off to college.
Parents also said that they don't think their children can properly manage their credit in order to establish a good credit score, and if they give their child a credit card or debit card, they want to be able to freeze spending on it if things get out of hand.
Parents did say that they are more comfortable with debit cards and prepaid cards than with credit cards, fearing that their child will get into debt and not be able to get out. Even with a debit card, they expressed the wish to have text alerts and the ability to freeze the account.
A Little Education Goes a Long Way
One way parents can reassure themselves that their student will be able to handle finances responsibly is to teach them a few basic things about money management. Rather than relying on parents to freeze their account or forward a text or email alert if funds are running low, students can learn how to manage their own finances and have a head start on a healthy financial future. Here are some tips for parents of students leaving the nest this fall:
Sit down and write out a budget with your child. How much does he or she anticipate spending each week on meals, gas, school supplies, and entertainment? Make a list of anticipated expenses and be realistic about how much they can afford to spend on each one. Try to reach an agreement about what the budget should be for each item on the list.

If your student is going to be responsible for credit card payments, have them set up automatic payments so they won't pay late and rack up fees, or have negative information sent to the credit bureaus that will impact their credit score. Make sure they understand that they should never spend more than they can pay off each month, so they don't have to pay interest charges.

Find a good, low-interest, no-fee student credit card with a low credit limit so your child can get a taste of using credit cards and begin to establish a credit history. Some student credit cards have limits as low as $300-$500 - enough to make everyday purchases, but not so much that they can get themselves into a deep hole of debt.
Great Student Credit Card
A couple of good cards for students venturing away from mom and dad for their first time are:
Discover it® Student Cash Back - this card has no setup fee, no annual fee, and offers easy approval for a young person with no established credit history. Students will get five percent cash back in rotating categories (up to the quarterly maximum) if they remember to sign up for the promotion every three months.
Citi ThankYou® Preferred Card for College Students (expired offer) - for a student who has some credit history and a good track record handling credit, this is a card that doesn't require a co-signer. It also has no setup fee or annual fee and offers rewards - 2X points on dining & entertainment. (Citi is a Credit-Land.com advertising partner).
Study Hard and Spend Smart
Parents who worry about their child running out of money can relax if they have given their kids a little bit of financial education and equipped them with a good student credit card and a set of rules around using credit cards. Learning to handle finances is an important part of life that every college student has to navigate, and knowing that their baby is armed with the right tools and education should help parents worry a little less when the nest is empty this fall.