The content is accurate at the time of publication and is subject to change.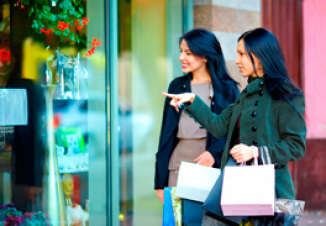 It may seem like online shopping has taken over traditional shopping, with people filling up virtual carts more often than they push actual shopping carts, but according to a recent survey by PricewaterhouseCoopers (PwC), consumers still prefer to do the lion's share of their shopping in the real, not the virtual, world.
Total Retail: Retailers and the Age of Disruption surveyed over 19,000 people across the globe and found that only 27% of folks purchase something online on a weekly basis. Seeing things in person, trying on clothing, avoiding shipping costs, and being able to lay hands on an item right away instead of waiting for it to ship were all reasons people cited for preferring brick-and-mortar shopping to online retail.
Browsing online, buying in-store
Seventy-three percent of survey respondents said they'd looked at products online but ultimately decided to buy them in a store, noting that they wanted to save on delivery fees (65%), have their purchase immediately (61%) and try it on or see it in person before purchasing (61%).
But sometimes people looked at things in a store first and then went online to buy the item. Sixty-eight percent of respondents reported doing their browsing in person and making purchases online.
Steven Barr, retail and consumer practice expert at PwC, said that as online shopping continues to grow, both brick-and-mortar and virtual storefronts are focused on "creating unique, brand-defining store and online experiences that keep consumers coming back." He said the survey pointed up the fact that online stores have become showrooms where people do research and compare prices to make purchases in store at a later date.
Mobile shopping will change the payment landscape
Although shopping from smartphones and tablets is still a relatively small piece of the retail pie, with only 1% of consumers naming mobile as their preferred way to pay, people are increasingly using mobile devices to make decisions about purchases. Thirty-six percent of respondents in the U.S. said they had used their smartphones to research products.
Credit and debit cards are still the most popular way to pay for purchases, with 40% of people naming credit as their top choice and another 40% saying they most often pull out their debit cards at the register.
Security is still a concern that prevents many people from embracing mobile payments; 33% of U.S. respondents said they don't shop with their mobile devices due to worries about hackers. Specifically, having their credit card information stolen is a concern for 77% of smartphone users across the globe.