The content is accurate at the time of publication and is subject to change.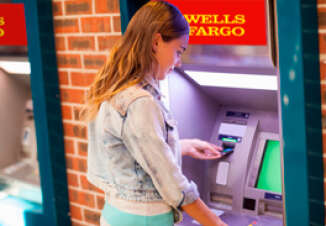 You can buy everything from dinner to plane tickets with an app or online, but cash is still king with many consumers so Wells Fargo has made it easy for cardholders enrolled in their rewards program to redeem points for cash at the ATM.
Cardholders can now choose one of two ways to get their cash rewards using the ATM's at a Wells Fargo branch. To get cash right away they log in to their account at the ATM and opt to get their reward points in cash. However, they can also use their cash rewards to make a deposit into one of their Wells Fargo accounts, whether that's their savings or checking account, or another account. This option also lets them make a payment or pay down a loan, including credit cards, mortgages, home equity and personal loans.
Rewards can be redeemed in $20 increments at any of Wells Fargo's 12,500 ATMs located across the U.S. People enrolled in the Wells Fargo rewards program can also redeem their rewards for merchandise, car rentals, flights, hotels, vacations, custom getaways, and cruises.
Times are a changing
With the rollout of this new option, Wells Fargo said that they are the first major bank to begin offering these types of ATM options to their customers.  "Customers live their lives on-the-go and being able to conveniently and simply access their accounts and rewards when and how they want is important," said Alicia Moore, head of Wells Fargo ATM Banking.
It's seen as an extension of their other ATM services, which they have been adding over the years. They include:
Letting consumers opt to get email receipts at their ATMs in 2010
Taking envelopes out of the deposit equation in 2011

Offering receipts via text message at their ATMs
All of these services reduced their paper usage, and last year their customers made one billion paperless transactions via ATMs.
Wells Fargo & Company is a community-based financial services company, which has $1.7 trillion in assets.  It is headquartered in San Francisco and has 8,700 locations.