The content is accurate at the time of publication and is subject to change.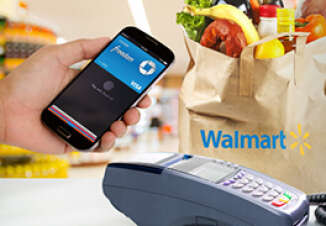 Walmart customers will be able to use Chase Pay to make a purchase whether they are buying home goods, new gear for school or holiday gifts. With this partnership Walmart will start taking Chase Pay via Walmart.com, as well as from Walmart mobile application and when shopping in stores using the Walmart Pay app.
For Walmart this initiative gives their customers more flexibility. "We are excited about the opportunity to provide our customers with even greater convenience and value to our Walmart Pay app while expanding our relationship with Chase," said Mike Cook, senior vice president and assistant treasurer for Walmart. "Adding Chase Pay as an option within Walmart Pay and online will create an enhanced experience for our customers."
This comes on the heels of the announcement that over 5,000 Walmart and Sam's Club stores located within the U.S. will process payments through ChaseNet, a closed network, created for the bank. The same holds true for Sam's Club ecommerce as well. ChaseNet and Chase Pay are slated to roll out in Walmart in 2017.
Right now Chase Pay is available via some merchant websites, and Chase will go live with their mobile payment system, which can be used at the registers and apps, later in the year.
Using Chase Pay at Walmart
Chase Pay gives people a way to make digital payments whether shopping online, via mobile app or in real time. It also lets them keep earning rewards and taking advantage of special offers while keeping security on point.
Chase Pay was created specifically to be used with Chase Visa credit and debit cards. It works by using token based technology. This tech creates a one-time code that lets the payment be processed, while keeping the credit or debt card information safe.
Just the newest Chase Pay partner
This year several retailers have come into the Chase Pay fold including Shell Oil, which signed a multi-year deal with Chase so that will let people to use Chase Pay at Shell Stations letting them pay for their gas, as well as get an oil change or pick up snacks. This relationship also lets Shell customers have access Shell's reward program.
Best Buy also signed a deal with the card issuer, so that people can pay with Chase Pay at Best Buy stores, as well as via the website and via the Best Buy app.