The content is accurate at the time of publication and is subject to change.
This content is not provided by Citi. Any opinions, analyses, reviews or recommendations expressed here are those of the author's alone, and have not been reviewed, approved or otherwise endorsed by the Citi.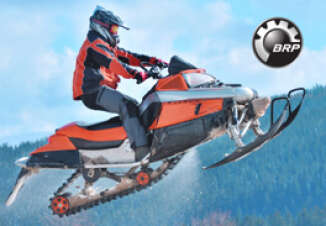 Citi, a Credit-Land.com advertising partner, Retail Services has signed a long-term financing services deal with BRP, a company specializing in the designing and manufacturing of power sports vehicles. While this agreement is in play Citi Retail Services will offer consumers access to a revolving credit card program, letting them pay for their favorite BRP vehicles, as well as other products and services offered by BRP.
For BRP this deal is seen as a way for them to leverage Citi Retail Services' experience in order to boost its appeal to consumers by giving them more options when buying their products. For Citi this new relationship is seen as a way to keeping building strategic partnerships.
"Citi Retail Services is always seeking strategic partnerships with premium brands such as BRP that have the opportunity to expand high-quality retail offerings to customers," said Craig Vallorano, Head of Citi Retail Services. "We look forward to the start of a great new relationship with BRP and are excited about the opportunity to help support their growth and position as an industry leader."
The ins and outs
With this new deal, Citi Retail Services will provide support for BRP's a new online dealer portal, providing BRP dealers with a convenient, streamlined way to process new applications, as well as transactions. In addition to the portal BRP dealers will be able to access to ways to provide cardholders with information on the newest services and offerings available with BRP.
While it will offer dealers more resources, BRP also sees it as a way to give their customers more as well. "Our agreement with Citi Retail Services will give consumers even more options when purchasing BRP products across our Ski-Doo, Sea-Doo and Can-Am brands," said Bernard Guy, Vice-President, Regional General Manager, North America.
More from Citi
This news comes on the heels of Citi inking a deal with Toro, a turf, landscape, rental and construction equipment company, to develop a private label credit card program. They also signed a deal with PayPal, giving Citi cardholders a way to pay for services and merchandise through PayPal, whether they are making a payment in real time or online.