The content is accurate at the time of publication and is subject to change.
This content is not provided by Citi. Any opinions, analyses, reviews or recommendations expressed here are those of the author's alone, and have not been reviewed, approved or otherwise endorsed by the Citi.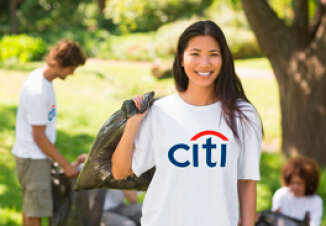 Citi, a Credit-Land.com advertising partner, has announced a new initiative to help the planet, earmarking a total of $100 billion to lessen the impact of climate change and help find solutions to environmental issues that affect communities.
The money will go toward renewable energy, energy efficiency, greenhouse gas reduction, sustainable transportation, and other issues tied in with the environment. Citi will fund efforts to help communities adapt to climate change, access clean water, manage waste and create earth-friendly and budget-friendly housing for low- and middle-income families.
Five years to reduce waste, emissions and greenhouse gas
Citi's new initiative has several goals to meet by 2020, including reducing greenhouse gas emissions by 35%, cutting energy and water use by 30%, and reducing waste by 60%. All reductions will be measured against 2005 usage. Looking even further ahead, by 2050 Citi aims to reduce their greenhouse gas emissions by 80%.
Another piece of the green goal list is LEED certification for a third of Citi's real estate portfolio. Citi will also pursue LEED Platinum certification for their global headquarters on Greenwich Street in New York City.
Advisors provide vital guidance
Nonprofit group Ceres helped Citi develop the initiative, providing input and meeting with stakeholders throughout the process. Mindy Lubber, president of Ceres, said financial services companies play an important part in investing in clean energy. "Climate change is expected to impact virtually every sector of the economy," explained Lubber. "We applaud Citi's leadership as the company continues to innovate and expand its efforts."
Helping Citi implement their mission is C40 Cities Climate Leadership Group, which is partnering with the financial giant to find ways for them to achieve their sustainability goals. "C40's ongoing partnership with Citi is helping global cities overcome their climate finance challenges," said James Alexander, head of finance and economic development at C40.
First goal met three years early
This is the second sustainable growth initiative by Citi. The first, a $50 billion initiative announced in 2007, was met three years ahead of schedule in 2013. This entailed reducing greenhouse gas emissions by 25% and landfill waste by 41%. They are on track to reduce water usage by 20% this year and have 15% of their real estate holdings LEED certified.
Michael Corbat, CEO of Citi, said the company has a "deep commitment" to the environment. "Incorporating the principles of sustainability into everything we do improves our own operations, enhances our clients' work, and contributes to a better world," Corbat said.