The content is accurate at the time of publication and is subject to change.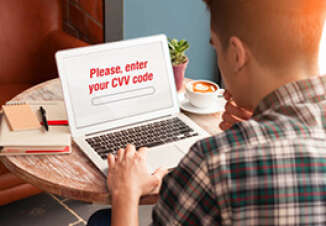 Merchants are seeing a 70% spike in online and mobile sales this year, so being protected from hackers and cyber criminals is a big concern, according to a new study by American Express which found that nearly half (48%) of online shoppers polled reported having had to deal with some kind of payment fraud. When you do the math this translates to about 80 million consumers.
The 2016 American Express Digital Payments Security Survey took a close look at what was happening with consumers and merchants when it came to digital payments finding that four out of 10 consumers reported that they see shopping via their computer or mobile devices as having more risk than shopping in real time.
Gen X and millennials feel the fear
In keeping with this theme 42% of people indicated that they have abandoned their purchase when shopping online because they were worried about security issues.
When you look at the generations, cart abandonment due to fear of hacking, data theft and other kinds of security issues, goes up to 48% when talking with Gen X. What about millennials? Gen X is not alone.
Millennials are also worrying, with 50% saying that they have abandoned their cart before check out too.
This data suggests that even though the younger set is all about using new technology, cyber security to protect their personal data trumps other priorities.
Shoppers willing to go the extra security mile
With all of this worry, consumers are willing to do things to make themselves safer from hackers – 78% are up for keying in a security code (CVV) when using their credit card, yet just 57% of retailers and merchants ask for a CVV code online.
What about answering security questions? Here too 70% are willing to answer them when checking out online but just 43% of websites offer this prompt. That's not all. Over two-thirds of online consumers (68%) would be willing to use a one-time password at online merchants, but here too merchants aren't up to speed, with just 37% having this requirement.
Creating customer profiles before checking out is also used as a way to increase security, and while 63% are willing to do just that, merchants fall short here too, with only 46% giving their customers this option.
Yet some consumer are not doing all they csn to keep themselves safe with only 44% having a different password for all accounts, while just 30% switch up their password once or twice a year, and 17% keep on using the same old passwords for banking and payments.
The 2016 American Express Digital Payments Security Survey was an online survey administered between September 6 and 13, 2016.