The content is accurate at the time of publication and is subject to change.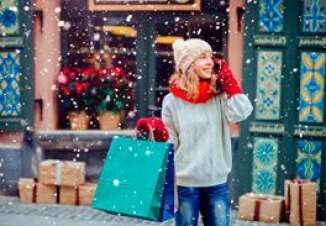 "Shop till you drop" may well be the mantra for some consumers this holiday season according to the new Mastercard Spending Pulse report, showing that consumers will be out in full force this year. Overall they project that total retail sales, will experience a 5% uptick, while e-commerce sales will be up 20% when compared with last year's sales.
When it comes to prime time holiday shopping season (between Nov. 1 and Dec. 24) they expect that overall U.S. retail sales will be 50% higher than a decade ago, and 19% higher when compared to five years ago. For e-commerce sales the expected upswing is even more profound, with Mastercard believing that this part of the industry will be up 104% from five years ago.
Thanksgiving brings sales and digital technology
For many, the shopping season begins on Thanksgiving Day, and the data from Mastercard SpendingPulse shows that this trend is in full swing. The report indicates that sales that weekend will be up 19%, while e-commerce sales are expected to be up 137% when compared to five years ago.
The report also found that there is some shifts in how consumers will be shopping this season, with online buying and in-store shopping on the agenda along with mixed shopping experiences, like "buy online and pick up in store" options.
That said they expect to see more consumers interested in buying merchandise via social media platforms with their phones. Consumers appear to be using mobile phones to not only make purchases but do their research, with 80% of decisions being influenced by mobile technology.
Last minute Christmas shopping still in style
Do more shoppers hit the stores on Black Friday or December 23rd? According to the Mastercard SpendingPulse forecast, people will be out in full force on both days, with indicators for both Sunday, Dec. 23, and Black Friday, Nov. 23 showing the same sales volume.
How much will consumers spend during the last few days before Christmas? They expect consumers will spend $60 billion during that weekend, and that's up 50% from a decade ago, and up 19% from five years ago.
For the Mastercard SpendingPulse report, they base their findings on aggregated sales activity gleaned from the Mastercard payments network. They also use information gained from surveys to determine data for other forms of payment, like cash and check.