The content is accurate at the time of publication and is subject to change.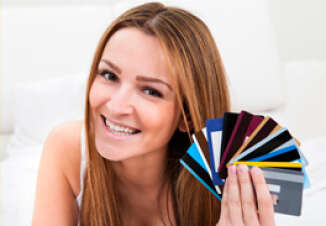 Credit cards are definitely trending with consumers according to a new study by Harris Polls, and they know what benefits they want to come along with their cards, including no annual fees and reduced or waived late fees. But when it comes to performance many feel like they are falling short when it comes to delivering.
Certainly, there are plenty of options when it comes to choosing a credit card, which is something the Harris Poll brings to the forefront in this study aptly called The Credit Lowdown, finding that eight out of ten people report having a credit card on hand. And they often have more than one, with many having three cards in their wallet.
Credit card must haves
When it comes to what benefits a credit card must have to be worthwhile there are seven that made it into the study with 75% of people indicating that they want a card that does not have an annual fee, and 56% looking for a card that offers low-interest rates. On the other hand, 42% of people want issuers to eliminate late fees or offer fee forgiveness.
The other "must have" benefits include:
Zero APR: 39%
Zero interest on balance transfers: 36%
No fees for foreign transactions: 29%
Cash advances and loans: 21%
Credit cards need improvement
There is plenty of competition out there when it comes to credit card rewards, whether that means getting cash back or earning points or miles. And there are also lots of perks and benefits to choose from, some of which make travel easier and more comfortable, dining out more lucrative, and a whole host of other extras that people indicate are nice to have.
With all of this, it might be easy to assume that people are happy with their credit cards but that is not the case, with 61% letting interviewers know that the card they use the most does not totally deliver on all that they have promised.
With so many cards on the market, Harris Poll believes that credit card companies need to be proactive in this area.
"In this highly penetrated and competitive industry, a company cannot afford to under-deliver. Consumers are inundated with offers from competitors who are eager to take a precious slot in their wallets. Issuers need to make promises they can keep, and stay ahead of consumer sentiment to stem off attrition and maximize loyalty," says Alison Bushell, client director at The Harris Poll.
This Harris Poll study was carried on online from November 2 to 4, 2016. They interviewed 2,037 people aged 18 and u living in the U.S.