The content is accurate at the time of publication and is subject to change.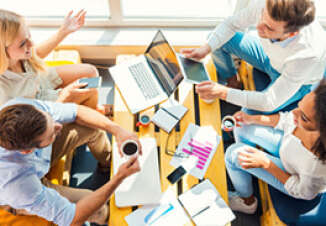 For some going to college is synonymous with getting a credit card or two, and according to a new study by Equifax, this trend holds true, with just about 70% percent of college students having at least one credit on hand. When it comes to managing their cards, a somewhat higher number pay down their balance each month - but when it comes to credit scores, they are not that interested in taking a look to see how they are doing -- even if they get it for free.
This blind survey specifically took a look at American college students falling in the 18- to 24-year-old age range also known as Generation Z. It found that while many college students are being responsible with their credit cards, just 43% check their credit scores. This is the case even though 62% said they were aware that they could get their credit report for free.
Keeping debt down
The survey uncovered that a major share of Gen Z respondents with a credit card were actively using it for a wide range of items and services, while just 16% said they kept a credit card just for emergencies.
Even though they are clearly using their credit cards the study found that Gen Z is keeping their unpaid credit card debt in check, with 72% reporting that they pay off their balances every month. And more than half (59%) of those who don't pay them down each month plan to start doing just that within the next 12 months.
Passing the credit score test?
While many are not taking advantage of free credit reports, it was a mixed bag when they were asked about the factors that can go into making them creditworthy.
They got some answers right including:
• Timely bill payment (73%)
• Total credit card debt and loans (66%)
• Kinds of credit cards/loans (59%)
• Credit history length (55%)
• Getting a credit account (51%)
And they got some wrong:
• Being denied credit (40%)
• Credit card/loan interest rates (37%)
• Getting a copy of their own credit report (22%)
• Receiving credit counseling (14%)
• Salary changes (11%)
• The state of their driving record (10%)
• Their gender (2%)
Equifax found that Gen Z is on track to build credit smart behaviors. "This survey provided us with the feedback we had hoped: That this generation, despite being bombarded by information from a variety of sources, is developing credit-smart behavior early on," Wing added. "However, we firmly believe ongoing education; appropriate tools and resources; and a thorough understanding of the implications that today's financial decisions can have on tomorrow's milestones are keys to a positive experience with credit."
The study was conducted in June of 2016 and involved 600 students who were 18 to 24.