The content is accurate at the time of publication and is subject to change.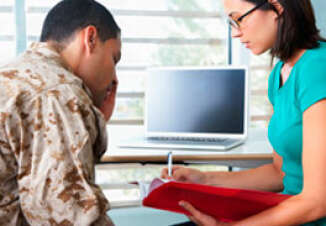 While many Americans are feeling that financial times are getting better, credit problems are on the rise for military families, according to a new study, with fears about defense downsizing taking center stage and bringing fresh stress into their homes.
The First Command Financial Behaviors Index talked with families of commissioned officers and senior NCOs, as well as civilians. It showed that over a third (39%) of middle-class military families reported having credit issues in the third quarter, up 12% from that time last year when that number was 27%.
This is in contrast to what non-military families are experiencing. The easing of the recession has meant that credit problems are going down among most Americans with just 29% of people having credit issues during the third quarter, down 6% from last year.
Short- and long-term troubles
Whether talking about managing their credit cards, loans or mortgages, military families experienced difficulties across the board with credit cards taking the lead:
Credit card interest going up (14 percent)

Credit card spending limits are reduced (11 percent)

Having a hard time paying mortgage (11 percent)

Credit cards applications rejected (10 percent)

Defaults on loans or missing payments (10 percent)

Defaulting on credit cards or missing payments (9 percent)

Not getting approved for major loans (9 percent)
Debts are leading the way when it comes to finances, with the number of military families having problems paying their mortgage just one point shy of doubling during the last four quarters, going from 6% to 11%. And those who find their loan applications have gone up too, going from 5% to 9%.
Anxiety takes hold, but hope springs eternal
The survey showed that the cuts to defense spending had 70% of respondents feeling anxious, up 17% from the year before. Just 30% of civilians reported feeling anxious. But they are taking actions to help themselves, with 44% reporting that they are saving more.
Credit problems can also cause military members additional issues not experienced by their civilian counterparts, including loss of security clearances, which can keep them from getting jobs within the military or in the security sector when they leave the service.
The First Command Financial Behaviors Index is a monthly survey was conducted by Sentient Decision Science, Inc. with reports being issued quarterly. They interviewed  approximately 530 consumers from 25 to 70.