The content is accurate at the time of publication and is subject to change.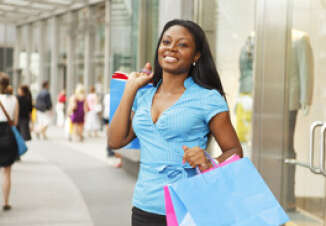 Believe it or not, the holidays are right around the corner, and consumers are getting ready to snatch up those Black Friday and Cyber Monday deals, according to a new study, which projected spending will be up that weekend.
The American Express Spending and Saving Tracker looked at shopping trends for the holidays, finding that on that mega-shopping weekend people are planning on spending $584, up 17% from last year. With affluent consumers, earning $100,000 and up, leading the way, with 56% planning to get in on the deals early, up 10% from last year.
Shopping online or in real time? The answer is both, with most consumers planning on doing a mix of online and in-store shopping. But shopping online continues to make headway this season, with 41% of people planning to do almost all or at least some of their gift buying online. While it's easy to assume that means using a computer, not so fast, app usage is up too. With over half of people (58%) using their phones to go shopping, which includes everything from searching websites for the best present and deal to actually buying a gift.
Black Friday and Cyber Monday are just the beginning
While consumers expect to shop 'til they drop between Black Friday and Cyber Monday, they will still be shopping throughout the rest of the season, with 62% expecting to get only half, or maybe less, of their shopping done over that weekend.
How much will they be spending? People reported that they will be spending about $839 (avg.) on their family.
Shopping online may be hot, but so is heading to the mall with 67% of shoppers planning on spending time at the mall, with department stores lagging behind (47%). What about shopping local? That's trending too, up 17% over last year.
Gift cards and charities never go out of style
Year after year it seems that gift cards are hot with consumers and this year it's no different with 57% putting them at the top of their shopping "to-do" list. When it comes to gift cards there is no gender divide, with 59% of women and 57% of men believing it's the best gift to give and get, because people can pick out their perfect gift.
Giving to charities is up this year, with millennial's leading the way when compared with the other generations (74% vs. 65% overall).
The Spendng & Saving Tracker research was conducted from September 23 to 28 with 1,503 adults taking pa.