The content is accurate at the time of publication and is subject to change.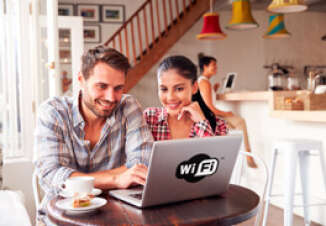 While some people may know that logging on to public Wi-Fi hot spots can put their sensitive personal data at risk, many don't, according to a new survey by AARP Fraud Watch Network. They are not only surfing the web or watching a movie, they are doing their banking, shopping, connecting on social media, and checking their email from these Wi-Fi access points – and may well play into hackers' hands.
The new AARP study showed that once a month just about half of people connect to free public Wi-Fi – and they are engaging in risky behavior. With 33% having used their credit card while logged in and 37% have logged into their bank account. What about social media? More than two thirds (70%) of people report logging into their social media streams, including Twitter, Instagram and Facebook – and checking their email.
All of which opens the door to cyber criminals. "Whether it's a business traveler making a last-minute rental car reservation, an over-scheduled mom who pauses at the coffee shop to make an online purchase for a child's birthday gift, or a gig economy worker who goes online to see if his latest paycheck cleared his bank account, people too often put themselves at risk of identity theft by using unsecure public Wi-Fi," said AARP Fraud Watch Network Ambassador Frank Abagnale.
Wi-Fi 101 is now in session
Along with the survey AARP Fraud Watch Network has launched their "Watch Your Wi-Fi" campaign designed to make Americans more aware of the dangers of using public WI-FI and to let them know how to defend themselves against hackers and cyber thieves.
These tips include not letting your mobile device automatically log into public Wi-Fi hot spots and make sure you're using the right Wi-Fi network because some hackers set up fake networks to hijack your information.
To access tips from AARP people can visit their webpage.
Businesses can do their part too
But what about the businesses that offer free public Wi-Fi? AARP wants them to take part in their campaign too by putting up a small poster sized tip sheet that they can get from AARP.
With 70% of people reporting that they did not see a poster telling them about the dangers of using public Wi-Fi when they are at coffee shops, hotels, retail shops, restaurants and other places offering free access. Two-thirds of people said that they would feel more positive toward a business who gave them friendly reminders about using Wi-Fi safely.
The 2016 AARP Cyber Security Survey was conducted between July 11 and 16 using a random telephone methodology. They interviewed 800 adults from the age of 18 and up.