The content is accurate at the time of publication and is subject to change.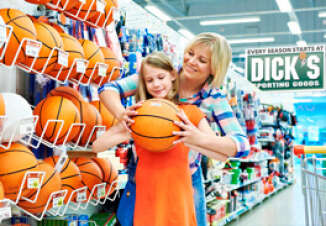 Dick's Sporting Goods is teaming up with Synchrony Bank to relaunch the sporting goods retailers' Rewards of Sport credit cards offering up to 6% back in rewards and other extras. The series will include two different cards – a private label card and a MasterCard, which includes all the perks of having a MasterCard.
The private label card ca be used exclusively in all the retailers stores, while the MasterCard can be used to buy sports gear at Dick's as well as be used everywhere else MasterCard is accepted. Both cards are part of Dick's rewards program, as was the case in the past, but cardholders will be getting access to some new benefits with these cards that were not part of the package on the last go round.
Cash Back on Dick's
On the day they open their new credit card account people get 10% back in rewards when shopping in the store, whether that means buying a new baseball gear or scoring some running shoes. This sign-up bonus is a new benefit of the upgraded credit card rewards program. They will also offer people the option to get in-store financing at certain times of the year or in certain circumstances.
Some things in the program will remain the same. On top of that sign-up bonus people still get access to rewards benefits, which includes 6% back in Rewards on day to day purchases made in the store. While people with the Rewards of Sport MasterCard also earn 1% back on all purchases made outside of the retail chain.
People who are part of the ScoreCard Rewards program ge3% back when shopping for sports gear in the store.
Signing up
Anyone who is over the age of 18 can apply for the new Rewards of Sport Credit Card's at any of the Dick's Sporting Goods and Field & Stream retail stores, but with this new relaunch people can also sign up at Golf Galaxy locations, too. Individuals who prefer applying online can get started on the website.
Dick's Sporting Goods has been in the retail business since 1948, and today its headquarters is located in Pittsburgh. There are over 640 locations in the U.S