The content is accurate at the time of publication and is subject to change.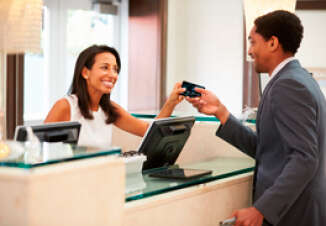 The Best Western credit card series is slated to hit the streets, with the hotel chain's co-branded relationship with First Bankcard in full swing. The new best Western Rewards Master card series includes four different cards, each one offering a different set of reward earning options, and giving people up to 70,000 bonus points in the first year. People earn 12 to 20 points per dollar on Best Western stays and services--and one point per dollar on all other purchases.
The series lineup includes Best Western Rewards Premium MasterCard, Best Western Rewards MasterCard, and the Best Western Rewards Business MasterCard. They are also offering a secured rewards earning card as well.
This new relationship and the credit card series are seen as a way to give customers more bang for their buck. "While other loyalty programs take steps to devalue their currency, Best Western Rewards is actively seeking to enhance its customer value proposition," said Dorothy Dowling, senior vice president of marketing and sales for Best Western International. "Our partnership with First Bankcard and the addition of industry-leading card benefits underscore our commitment to providing exceptional value and quality to Best Western Rewards members."
Point Earning highlights and perks
With the Best Western Rewards Premium MasterCard people can earn 70,000 bonus points over the first year. When people spend $2,500 over the first three months they earn 25,000 points, and if they spend $5000 over six months they earn another 25,000 points. As an extra bonus, they earn another 20,000 points during the first 12 months if they spend $10,000.00 or more. The $59 annual fee for this card is waived for the first year.
The Best Western Rewards MasterCard, and the Best Western Rewards Business MasterCard let cardholders earn up to 20,000 bonus points over the first six months. They can earn an additional 10,000 points after spending $1,000, and yet another 10,000 if they spend $3,000 within the first six months. There is no annual fee for these cards.
People who opt for the Best Western Rewards Secured MasterCard get $5,000 bonus points with their first purchase.
Point redemption and extras
Points can be redeemed for stays at any of the 4,000 Best Western Hotels located around the world, as well as for airline tickets, entertainment, merchandise, gift cards, and to make donations to charities.
Besides earning points cardholders can also access a wide range of additional benefits including
upgrades, a free FICO score, and a 10% discount when they book stays directly through a website they have set up for cardholders.