The content is accurate at the time of publication and is subject to change.
This content is not provided by Citi. Any opinions, analyses, reviews or recommendations expressed here are those of the author's alone, and have not been reviewed, approved or otherwise endorsed by the Citi.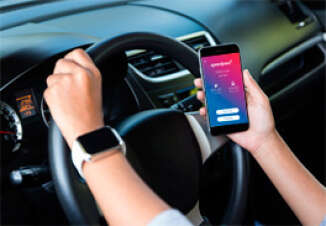 Mobile payments can make life a lot easier especially if you're on the run - and part of being on the go can mean gassing up. ExxonMobil is trying to make it easier by rolling out an upgraded version of their Speedpass+ mobile payment app. Now, people with Ford vehicles equipped with Ford SYNC3 and those using an Apple Watch will be able to pay for Synergy fuel and get their car washed at just about 10,000 locations in the U.S. using the app. The Speedpass+ app can be used with credit and debit cards, as well Apple Pay and Samsung Pay.
The Speedpass+ mobile payment app can now be used to actually apply for the ExxonMobil Smart Card+(Citi is a Credit-Land.com advertising partner), their private label credit card managed by Citibank, N.A. The system will automatically integrate this card into the app once people are approved. For a limited time, new cardholders will save 20 cents on every gallon of gas they buy for the first two months that they have the card. And from that point on they will save six cents per gallon when buying gas.
Ford's AppLink and Apple Watch integration get linked
Ford's AppLink technology in SYNC 3 was rolled out earlier this year. The technology lets people with the Speedpass+ app actually use the touch screen in the car or use voice command to authorize payments.
That's not all people who own Ford vehicles can also check in with their car to see how much gas is in their tank using the app, whether they are in their house, at work or in the park. This way they can gauge whether or not they have to gas up before they even get in their car.
People who have an Apple Watch can download the app and use it with their watch. They will be able to pick the pump they want to gas up at and then make a payment using their watch.
An encrypted token is used to protect user's personal data from hackers and cyber thieves."We are always looking for ways to give Exxon and Mobil consumers a safe, clean, convenient, and quick way to fill up, and mobile payments are helping us to redefine the consumer shopping experience at the pump," said Matt Bergeron, vice president of marketing for ExxonMobil Fuels, Lubricants & Specialties Marketing Company.
Plenti points
With the Speedpass+ app users can earn and redeem Plenti Loyalty points. To get started people simply link up their Plenti account and Speedpass+ account. From that point on they earn points on all Speedpass+ transactions.